Minister Tinee Furbert recently highlighted initiatives and resources aimed at supporting dementia care on the island in light of World Alzheimer's Month being recognized in September.
Minister Furbert said, "As we celebrated World Alzheimer's Month during September, I am happy to share resources for those living with dementia, and those caring for them."
"In February 2021, our Ministry launched 'Dementia Care in Bermuda', an educational campaign to support families, caregivers, and the general public who may encounter someone with dementia or who may be at risk of developing dementia."
"To date, we have hosted a 6-month radio talk show on Magic 102.7 FM, three panel discussions, a social media educational campaign, and are now launching 'Dementia Helpcards'."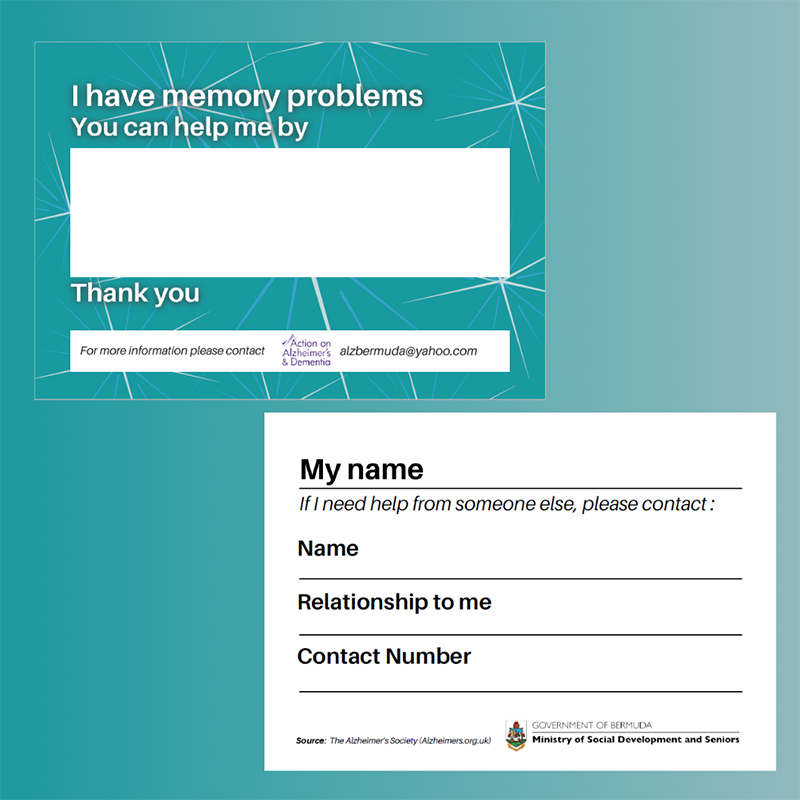 "Dementia Helpcards are for people with dementia to carry to make it easier for them to ask for help or assistance when they are out in the community. These cards will include information such as:
My name is ______.
I have memory problems; you can help me by _____.
If I need help from someone else, please contact [name, relationship to me, contact number].
Any other information [including medical conditions].
"Cards can be obtained from the Ministry between Monday and Friday by calling 444-2466 or emailing msdsrequest@gov.bm
"I encourage those who are interested in learning more about dementia to follow the Ministry on Facebook and Instagram and take advantage of the resources that are available such as:
"Department of Ageing and Disability Services – Dementia resources here
"Dementia Care in Bermuda – Panel Discussions:
Episode 2 Dementia Training Resources Online, Hiring In-Home Help, Community Care Options/Day Care, Emotional Well-Being Hotline, Protection, and Welfare, Preventative and Advance Directives, and Power of Attorney: https://fb.watch/8iUOOPfFMF/
"Alzheimer's Society Learning Hub Online Dementia Courses:
Introduction to the dementia journey
Understanding dementia
Understanding the early stages of dementia
Engaging with people in the early stages of dementia
Responding to distressed behaviour
Creating dementia-friendly environments
"Caring for those living with dementia is a community effort, and we all need to do our part. Although World Alzheimer's Month has come to an end, dementia and dementia-related conditions are a daily reality for many."
"I encourage each and everyone in Bermuda to strive to support those in our community living with dementia as well as those who selflessly care for them. Caregiving is not an easy task, yet caregivers consistently give their all."

Read More About
Category: All