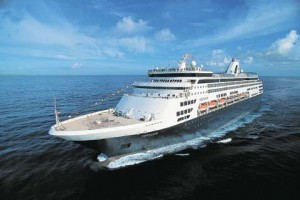 The inaugural Holland America Lines "Veendam" is scheduled to make its inaugural call to Bermuda tomorrow [Apr 27], but may have difficulties due to inclement weather.
It was planned for the ship to be moored at Murray's Anchorage and the passengers transported to St. George's via the tender Bermudian.
Because of anticipated inclement weather, the ship may not be able tender from Murray's Anchorage to St. George's.
If that occurs, the 'Veendam' will continue to Hamilton on Tuesday morning, and remain there until Friday afternoon when she is scheduled to depart.
In the event the 'Veendam' goes direct to Hamilton on Tuesday morning, The Ministry of Tourism and Transport has coordinated a contingency plan with Holland America Line to provide transportation service back to St. George's. This will include, weather permitting, direct ferry service and use of the bus system.
Premier and Minister of Tourism and Transport Dr Ewart Brown said:
We will make every attempt to honour our commitment to the people of St. George's by doing everything possible to ensure that 'Veendam' guests have a quality St. George's experience during their stay in Bermuda.

If weather conditions prevent safe operation of the ferry service on Tuesday, special service will be provided on Wednesday for 'Veendam' guests to go to St. George's.
The 'Veendam' is scheduled to make 24 calls to Bermuda in 2010, tendering at Murray's Anchorage on Tuesdays before docking in Hamilton from Wednesdays – Fridays.
Read More About