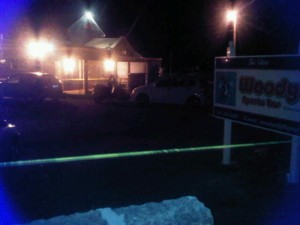 [Updated with video] At a press conference this afternoon the Police officially named today's [June 14] murder victim as Frederick Eugene Maybury, as well as confirmed that two individuals have been arrested in connection with the incident.
The Police also said there is "some indication" that the suspects may have had access to a boat, and that the marine police unit was involved, with the Police saying they had a "robust response on land and water".
The Police also said that they are getting "early co-operation from people who were there", and that they have interviewed witnesses in relation to the shooting. They are appealing for anyone with any information to come forward, pointing out it makes the community safer as a whole.
The Police would not confirm whether this incident was gang related and whether Mr Maybury was specifically targeted, saying it is only 15 hrs into the investigation and they do not wish to rule out any possibilities.
Mr Maybury was shot multiple times outside of Woody's Restaurant on Malabar Road in Sandys early this morning, and taken to the hospital where he was pronounced dead. An autopsy is expected to be performed tomorrow.
My Maybury was 34 yrs old, a self employed plumber and a Sandy's Parish resident. Bernews joins with the wider Bermudian community in extending our sincere condolences to Mr Maybury's friends and family. Anyone with any information is urged to contact the Serious Crime Unit on 299-8115, or the independent 24 hour confidential Crime Stoppers Bermuda hotline on 800-8477, or send an anonymous tip via the Crime Stoppers Bermuda website crimestoppers.bm
This is the sixth murder of 2010; following the murders of Perry Puckerin, James Lawes, Kimwandae Walker, George Lynch and Dekimo Martin.
The video below is from today's press conference, with Assistant Commissioner Paul Wright and Detective Chief Inspector Nick Pedro:
Update 6:22pm: Official Police statements added. The Police have given greater details on the 2 men arrested; 44 year old St. George's man and a 34 year old Southampton man
Assistant Commissioner of Police Paul Wright:
On behalf of the Commissioner of Police and members of the Bermuda Police Service I express condolences to the family and friends of Frederick Maybury.

The murder of Mr. Maybury represents the 6th death caused by gunfire in Bermuda this year (2010), while an additional 12 persons have been injured. (2009 = 4 people killed by gunfire & 13 people injured).

I acknowledge and share the concern felt throughout our community about the current frequency of gun crime. The top priority of the Bermuda Police Service is 'Making Bermuda Safer' and I know the community is well informed on the seriousness of the current crime problems and strongly supports the role that the men and women of the Bermuda Police Service are performing.

There has been a very positive response from the community to the recent court appearances of multiple defendants charged with murder, attempted murder and other firearms offences. However, these encouraging signs of progress will be of little comfort to Mr. Maybury's family and friends and to others personally affected by the senseless violence. I appeal to all of those caught up in the escalation of violence for calm and restraint.

I want to assure you that we will maintain our focus on guns, gangs, drugs & violence. We will continue to focus on Prolific Priority Offenders – those among us that present the greatest threat to our community.
Detective Chief Inspector Nicholas Pedro, Officer in Charge of the Serious Crime Unit:
The Bermuda Police Service confirms the murder of 34 year old Sandys Parish resident Mr. Frederick Eugene Maybury. Mr. Maybury was a self employed plumber, and leaves behind a grieving family to mourn his loss.

At 12:35am this morning, the Bermuda Police Service attended a report of gunfire and the shooting of a man at Woody's Drive Inn, in Sandys Parish. The Police response included officers from our Armed Response Team, Marine Unit, and patrols.

On arrival at the scene, officers determined that Mr. Maybury had been shot multiple times, and had been conveyed to the King Edward VII Memorial Hospital where a doctor pronounced him dead.

A full and robust investigation into this incident is underway, being lead by myself. A full complement of detectives from the Serious Crime Unit and our Forensic Support Unit has examined the scene to collect evidence, and witnesses have been sought, and interviewed. There are a number of lines of enquiry being carried out by the investigating team, including indications that the offenders may have had access to a boat. Officers are also looking at other evidence provided by witnesses at the scene, including CCTV footage. The response by the Police Service was, and will continue to be proactive to identify and bring the offenders to justice. Significant resources will be used to achieve this end.

A 44 year old St. George's man and a 34 year old Southampton man have been arrested in connection with the murder of Mr. Maybury. They are assisting Police with enquiries at this time.

The investigating team would like to speak with any person that may have seen or heard anything related to this incident – however irrelevant it may seem.

Whilst the Police will actively seek out witnesses and collect all available evidence, we encourage anyone with pertinent information to come forward. Again, this information can and will be treated in the strictest confidence.

The Serious Crime Unit can be contacted on 299-8106. In addition, anyone with any information about this fatal shooting is encouraged to contact the CONFIDENTIAL & independent Crime Stoppers Bermuda hotline on 800-8477 (TIPS).
Read More About