[Updated] Bernews understands that a man was shot approximately 30 mins ago today [June 14]. We have extremely limited information at this early juncture but will update through the night as we are able. As of now we understand the shooting took place at a bar in the Sandy's Parish area, and we also understand that the victim is not in a good state.
Updates posted as they come in….
Update 1:46am: Hospital is on full lockdown, with police cars and officers stationed outside.

Update 2:10am: Shooting happened outside Woodys Bar, police are out in high numbers, we understand the scenario to be very bad for the victim
Update 2:12am: It is confirmed that the victim has died of multiple gunshot wounds…a 34 yr old man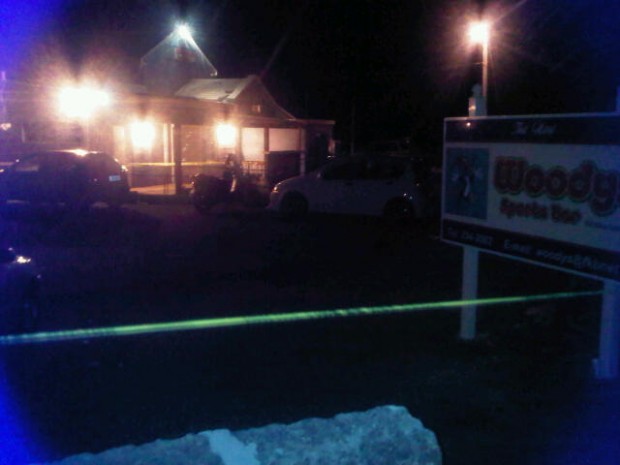 Update 2:22am: Forensic Unit arrived on the scene a few minutes ago, and are examining the crime scene, which appears to be the parking area in front of Woody's.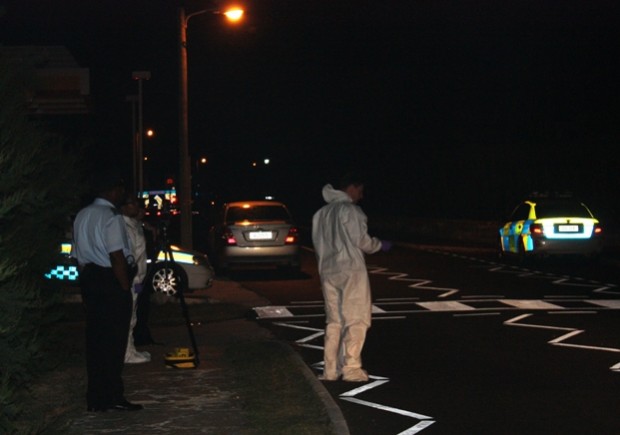 Update 2:25am: Official information from Police
Police responded to reports of gun shots fired at Woody's Restaurant on Malabar Road in Sandys at 12:35am. Upon police arrival it was ascertained that at 34 year old Sandys man was outside of Woodys when he was shot. As a result, he was taken to KEMH where he died as a result of his injuries.
Update 4:24am: Video of crime scene and statement by Police Media Relations Manager Dwayne Caines posted here.
Update 6:55am: We unofficially understand that the victim was standing outside in the parking lot with friends when he was shot.
Update 12:44pm: The Police will be holding a press conference at 4pm, so we will update with official details shortly after that.
Update 4:43pm: Police officially name victim as Frederick Maybury, and confirm the arrest of two persons in connection. See here for full details.
Bernews extends our condolences to the victim's friends and family. Anyone with any information is urged to contact the Serious Crime Unit on 299-8115, or the independent 24 hour confidential Crime Stoppers Bermuda hotline on 800-8477, or send an anonymous tip via the Crime Stoppers Bermuda website crimestoppers.bm
This is the sixth murder of the year following the murders of Perry Puckerin, James Lawes, Kimwandae Walker, George Lynch and Dekimo Martin. Bermuda is averaging approximately one murder every 27.5 days so far in 2010.
Read More About