Alex Jackson's maxi 100-footer sloop Speedboat was the first boat across the line out of the 183-boat fleet in the Newport Bermuda Race. The boat crossed the St David's finish line at 4:49am Bermuda time this morning [June 21], after leading the race almost the whole route. Speedboat finished the race in just over 59 hours. The crew of 25 never reefed the boat. In the light to moderate conditions that prevailed through most of the race, Speedboat was hard pressed by Il Mostro, Rambler, and several boats in the mini-maxi 70-80 foot range over the first third of the course. "We really didn't get away from them until we were in the Stream," navigator Stan Honey said after Speedboat tied up at the Royal Bermuda Yacht Club's marina early Monday morning. "Then they gained a lot in the light stuff as we came into the finish."
She is pictured below at the start of the 2010 Newport Bermuda Race: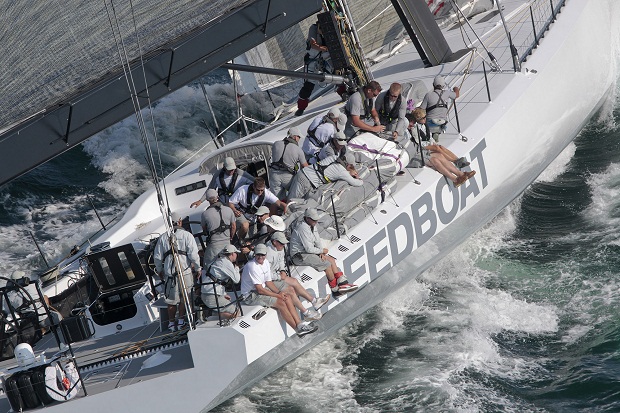 Speedboat and crew pictured below in Bermuda this morning, click to enlarge:
Finishing second at 6:25 was Il Mostro (Puma), a 70-foot Volvo Ocean Race boat sailed by Kenny Read, whose brother, Brad, was in Speedboat's afterguard. Boat boats sailed in the Open Division for racing yachts with canting keels.
At 6am Bermuda time the mini-maxi Rán on its blog reported less than 10 knots as she beat to windward toward the buoys guarding Bermuda's reef. "Titan is downwind from us and is not a threat. Rambler and Beau Geste are upwind and in front as we thought they would. We are still in a strong position although it now looks like Beau Geste is the biggest threat. Just a few more hours to go." The blog reported, "As we are approaching the finish slowly but surely, we are all on deck, no more watches, all are on duty for the final stretch. Coffee and tea served on the rail – black only as no more milk powder onboard. Very calm water. Wind speed of 9 knots – just over – and land in sight." The iBoattrack showed the rest of the 183-boat fleet, some as small as 33 feet in length, stretched back to the Gulf Stream.
You can track the boats on iboattrack here, and the full crew list follows below, click 'full screen' for greater clarity:
Read More About