Tomorrow [June 21] will be a public holiday to observe National Heroes' Day. At noon there will be a service at the Cathedral of the Most Holy Trinity themed, "Remembering our National Hero – The Hon. Dame Lois M. Browne-Evans DBE, JP, LLB- A Service of Thanksgiving".
Clergy, led by the Bishop of Bermuda, The Rt. Rev. Patrick White and Members of the Legislature led by the Premier, will participate in a service of hymns, readings and prayers for the people of Bermuda and for peace. The service is open to the public and will also be broadcast live on radio and on CITV.
The Devonshire Recreation Club will be hosting a Family Fun Day in honour of Dame Lois tomorrow, details on the poster below: [Update June 21 12:40pm: Event at the Rec postponed]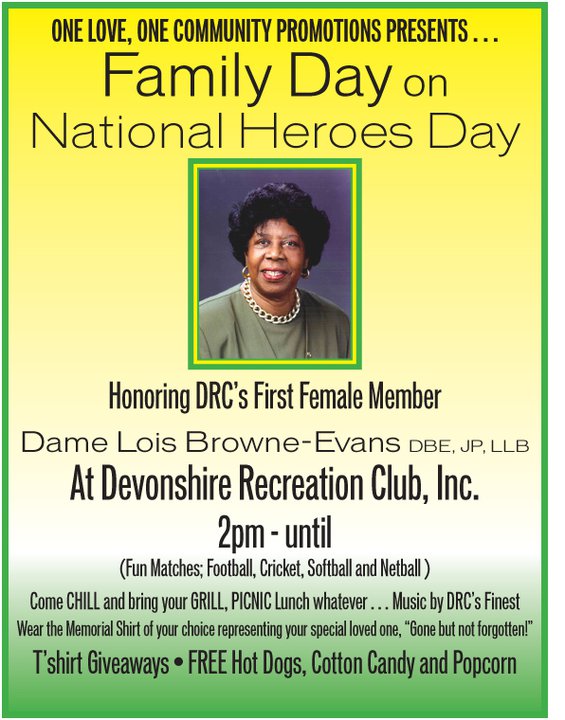 Minister of Social Rehabilitation and Cultural Affairs Neletha Butterfield spoke of the selection process for National Heroes in May, saying:
Dame Lois Browne-Evans, DBE, JP, LLB, was designated as Bermuda's first National Hero in 2008. As such, Dame Lois will continue to be celebrated and remembered on each and every National Heroes Day.

The intent is to add more deserving people to the list of National Heroes in the future. Thus, while National Heroes Day this year will continue to honour the only current recipient, Dame Lois Browne-Evans, there is no question that other National Heroes will be selected, and all designated National Heroes will be collectively and appropriately honoured each year on National Heroes Day, which will be celebrated each year on the third Monday in June.

The National Hero designation is a lifetime honour that is bestowed. Once a person is named as a National Hero, he or she will be a National Hero forever. How will National Heroes be selected? Government has developed both a process for selection and a set of selection criteria, which I will now briefly describe.

A person who is selected to be a National Hero must meet the following criteria:

* made a significant and lasting contribution to Bermuda
* enriched the lives of others
* his/her legacy will stand the test of time and have continued relevance in the future
* contributed to the quality of life and destiny of Bermuda
* be considered as outstanding in their area of activity
* has ready name recognition among the general population
* is recognized by his/her profession or organization
* is reflective of Bermuda's cultural heritage and diversity

It is important that the individual or group of individuals designated as National Heroes be of outstanding character. Such persons may possess some or all of the following characteristics:

* dedication
* commitment
* self-sacrifice
* con-scien-tious-ness
* demonstrate consistency and passion
* agent of change or betterment
* risk-taker
* demonstrate love of Bermuda and her people
* demonstrate leadership qualities

Nominations for National Hero must be submitted to the Ministry of Culture and Social Rehabilitation by September 30th of each year. The Department of Community and Cultural Affairs will make the public aware of the criteria and process for the selection of National Heroes through multiple media sources including television, internet and print media. Any member of the public including civil servants can make nominations for a National Hero. Applications, guidelines and guidance notes will be available online by the end of June 2010 at www.communityandculture.bm and at the Department of Community and Cultural Affairs Offices.

In terms of the selection process, it should be noted that several jurisdictions including Australia, St. Kitts & Nevis, Cayman Islands and Jamaica have selection panels or committees that are charged with selecting heroes that the public has nominated according to pre-determined criteria.

Government has determined how it wishes our National Hero selection process to proceed. Accordingly, I wish to announce the formation of a five-member National Heroes Parliamentary Selection Committee, which will be comprised of three (3) members from the House of Assembly and two (2) members from the Senate. Two (2) of the Members of Parliament will represent Government and one (1) Member of Parliament will represent the Official Opposition on the Committee. One (1) Government Senator and one (1) Opposition Senator will sit on the Committee.

The Department of Community and Cultural Affairs will act as the Secretariat for the National Heroes Parliamentary Selection Committee to ensure accurate records are kept of the process and recommendations made. The Committee will review all nominations received in a given year and make recommendations to the Minister of Culture and Social Rehabilitation. It is expected that the Committee will keep the dignity and honour of the designation of National Hero foremost in mind when persons are being considered for recommendation to the Minister.

The Minister of Culture and Social Rehabilitation will then review all nominations for National Hero received from the Committee and prepare an annual report to Cabinet during the last quarter of each year. Cabinet is not obligated to select a National Hero each year. During the last quarter of each calendar year, the Minister of Culture and Social Rehabilitation will publish a list of names of all persons nominated for National Hero during the year. If no nominations are received, and/or Cabinet decides not to select a National Hero in any given year, then no list will be published.

If a new National Hero has been selected, that person or persons, or if deceased the significant surviving family member, will be notified in writing by the Minister of Culture and Social Rehabilitation prior to any public announcement. The Minister of Culture and Social Rehabilitation will make a formal public announcement at least four (4) months prior to National Heroes' Day. This early announcement will allow time to prepare for National Heroes Day.
UBP Senator Jeanne Atherden, Shadow Minister of Community & Cultural Affairs stated in reply:
We are pleased the Culture Minister has finally issued the criteria for the selection of national heroes.

It comes more than two years after the Government said it was working on such criteria, so we say better late than never.

We hope the criteria will be used to facilitate the selection of Bermudians whose good deeds will help us spread awareness and generate appreciation of great people who made positive and influential contributions to Bermuda.

Our one concern with the Minister's proposal relates to the composition of the National Heroes Parliamentary Selection Committee. From the outset, we said the promotion of national pride and the achievements of outstanding Bermudians ought not to be part of partisan politics. We were very clear from the start of this initiative back in 2007 that it be a community-based exercise, not a politically controlled operation.

In September 2007, we said:

"We believe these decisions ought to be made by people chosen from the community, not because of their politics, but on the basis of their good judgment and, perhaps, their knowledge of history. The Government ought to appoint such a group and turn the job over to [the group's] members.

"The Government's involvement ought to be no greater than having the right to suggest names of those they believe should be honoured. Other interested people and organisations in the community should have the same right, so that the results can truly be said to be rooted in the community, rich in diversity as it is."

The Minister's plan to appoint a committee of politicians to select national heroes going forward runs counter to our position. Indeed, it seems to run counter to former Culture Minister's plan, which was in line with our proposal.

In January 2009, then Minister the Hon. Dale Butler circulated a proposed plan in which the selection committee would be "comprised of five members reflective of Bermuda's history, culture and ethnicity (appointed by the minister) for a three-year term to manage the process of naming public properties and recognizing national heroes."

So we disagree with the current Minister's plan to appoint nothing but MPs and Senators to the selection committee, with its tilt to Government control of the process. This is an unfortunate development but reflects the government's deep-seated desire to control everything and a general lack of trust in people outside of its immediate circle of control.

Experience has shown time and again that this Government will do what it wants regardless of what others think.

So the challenge for us in the United Bermuda Party is to strike a balance between our original position, the Government's political plan and our desire not to impede progress on the naming and celebration of national heroes, which has been stalled for no good reason for more than two years now.

In an effort to de-politicize the selection committee, we recommend the addition of two more individuals to its proposed ranks; individuals drawn from the community who reflect the attributes touched on in our original recommendations. In addition, we believe these two appointments should be made by the Governor, not the government.

It is a shame the Government does not trust the good sense of the community to do this kind of work. By agreeing to add two people from the community to the proposed committee, the partisan political component within the process can at least be diminished.
Read More About