Despite extensive efforts made by the Bermuda Fire Service, a man succumbed to injuries received from smoke inhalation in a house fire in Warwick early this morning [Aug 11]. At around 1:30am a two-storey dwelling at 7 Fairways Road, Warwick was on fire, and over a dozen firefighters responded and after putting out the fire found a male occupant in a collapsed state. He was rushed to King Edward Memorial Hospital, where he tragically died as a result of his injuries.
Update 4:20pm: He has been named as 67-year-old Gordon Howard, a British national.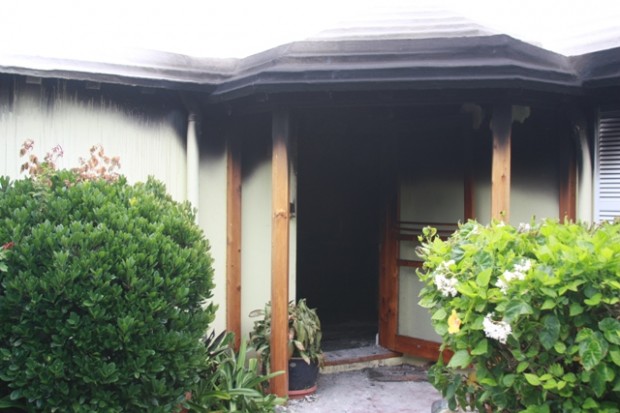 The Fire Service tells us that at 1:33am a call for assistance was received in Fire Dispatch for a structural fire, and Bermuda Fire and Rescue Service responded with 3 fire appliances, 3 support vehicles and 13 personnel, with the first unit from the Port Royal Station arriving within 10 minutes.
Fire fighting operations began with 2 firefighters in breathing apparatus; however the focus of the operation quickly shifted to search and rescue when one occupant of the dwelling was unaccounted for. A total of 4 firefighters in breathing apparatus conducted an extensive search to discover a occupant in a collapsed state. The search also revealed 2 household pets that had succumbed to smoke inhalation. The male victim, who was suffering from smoke inhalation was quickly put into an awaiting ambulance and transported to King Edward VII Hospital. The fire was brought under complete control within twenty minutes of the initial call.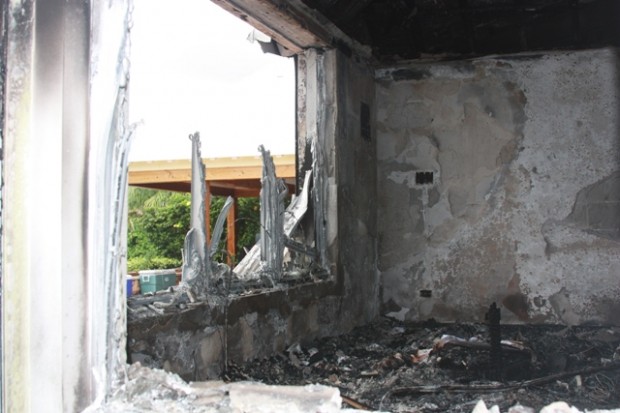 The residential dwelling, which overlooks both the golf course and the water, was extensively damaged throughout by heat and smoke. The cause of the fire is still unknown at present, and is in the process of being thoroughly investigated.
We extend our sincere sympathies to the victim's family.
Update 4:30pm: Police release a statement:
Around 1:30am on Wednesday, Police received a report of a fire at a Fairways Road, Warwick residence. The Bermuda Fire & Rescue Service as well as Police officers promptly attended the scene and found the home ablaze. The victim, a 67 year old Warwick man, was extricated from the home by Bermuda Fire & Rescue Service personnel in an unresponsive state. He was rushed to King Edward VII Memorial Hospital via ambulance but was subsequently pronounced dead. No further information will be released until the next of kin have been notified. The cause of the fire is under investigation. The Bermuda Police Service extends condolences to the family & friends of the deceased.
Read More About
Category: Accidents and fires, All, News