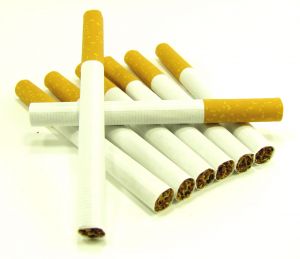 It appears that Bermuda's criminals like a little puff, as for the second time in five weeks a burglar[s] broke into a gas station and stole cigarettes.
Around 6:10am yesterday [Sept 25], the Police received a report of a burglary at the Collectors Hill Esso Service Station in Devonshire.
They say that it appears that sometime between 11pm on Friday and 5:50am on Saturday, an unknown culprit gained entry into the premises and stole a quantity of cigarettes.
The previous incident occurred last month, when a burglar broke into the Crawl Hill Gas Station in and stole multiple cartons of cigarettes, with Marlboro and Camels being that particular suspects's smoke of choice.
Additionally, around 6:30pm on Friday Spt 24, the Police received a report of a burglary at a Middle Road, Southampton residence. Sometime between 3:30pm and 5:30pm that afternoon, the burglar[s] broke into the unoccupied home and stole a Sony 46" flat screen TV.
Police inquiries into both incidents are underway.
Read More About