Devonshire Cougars beat Dandy Town Hornets 3-2 in the Charity Cup finals at BAA field yesterday [Sept 26]. Tumaini Steede scored the first goal of the season when he put Cougars up 1-nil in the 24th minute of play. Five minutes later, Chris Caisey doubled the lead to make it 2-nil, which was the score going into half time.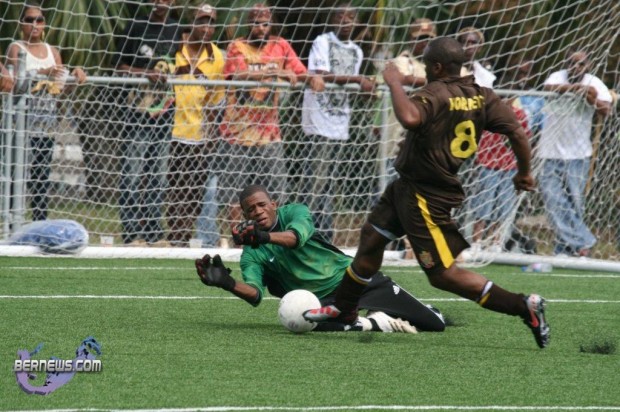 In the second-half, in the 47th minute, Ricky Saltus found the back of the net, putting the Dandy Town Hornets on the score sheet with their first goal of the season. With only 10 minutes remaining in the game, Jamel Swan scored the equalizer in the 80th minute of play when he leveled the score at 2-2.
Both teams started to attack with little time remaining, however it looked as though the game was heading to penalty kicks. Veteran, Aljame Zuill came on in the first half as a substitute and scored for Cougars in the 88th minute of play. That was the winning goal with only 2-minute left for regulation play.
Final score Devonshire Cougars 3 vs. Dandy Town Hornets 2.
Click to enlarge images:
Read More About