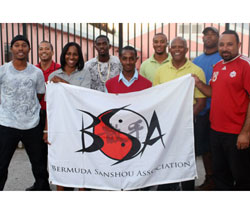 Bermuda captured three medals at the recently Pan American Wushu Championships in Buenos Aires, Argentina, courtesy of outstanding performances from Garon Wilkinson, Shannon Ford and Samir Furqan.
On the last day of competition Garon Wilkinson competed in the Traditional Northern Open Hand Forms and Other Weapons 26 to 35 years divisions as part of the 1st Traditional Pan American Wushu Championship, earning a silver medal.
In a rather unfortunate circumstance, Mr. Wilkinson's chain whip broke during the Open Weapons Division. Another athlete generously offered Mr Wilkinson the option to use his. Despite this, and the scoring deduction it caused, Mr. Wilkinson manged to get back on track, finishing in 5th place.
Also medaling was Shannon Ford who won a bronze medal in the 80kg San Shou Division, and Samir Furqan also put on an excellent showing to capture a bronze medal in the 56kg Junior San Shou Division.
Read More About