On October 6th the Minister of Environment and Sports issued a protection order for Spotted Eagle Rays on the advice of the Department of Conservation Services.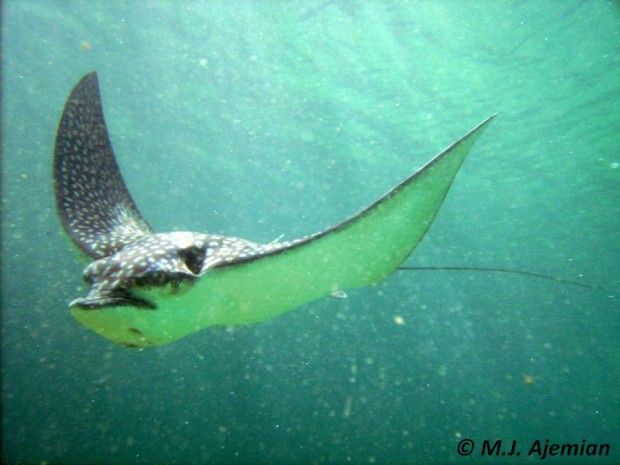 Action was initiated in mid-August based on observations by Bermuda Aquarium Museum & Zoo that the Spotted Eagle Ray was increasingly being targeted by recreational fisherman.
If convicted the penalty for the first offense is $5000 fine or 6 months imprisonment and $10,000 or 6 months imprisonment for subsequent offenses.
The spotted eagle ray (Aetobatus narinari) is most easily recognized by white spots on its black or bluish back (the ray's main body is called the disc), and the underside is creamy or white. It swims by "flying" gracefully through the water via the undulation of the pectoral fins. In open waters, spotted eagle rays often form large schools and swim close to the surface. It is capable of leaping completely out of the water when pursued. They eat squid, sea urchins, shell fish, as well as bony fish.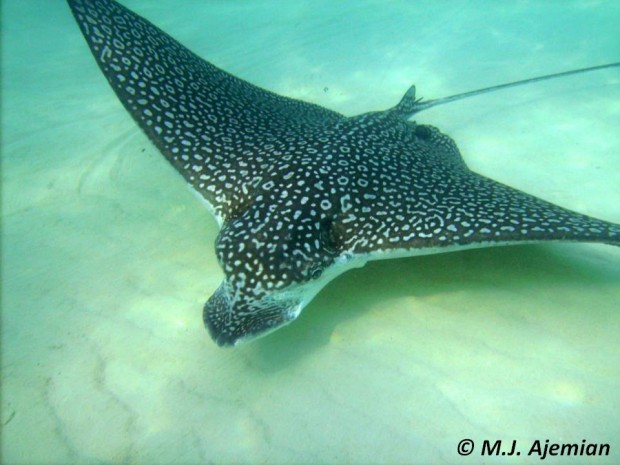 The spotted eagle ray is commonly found in tropical waters like Florida and the Gulf of Mexico. It can swim long distances across open waters as evidenced by its presence in Bermuda. In Bermuda spotted eagle rays are commonly found in shallow inshore waters such as bays and coral reefs. They are commonly seen in Harrington Sound which recent research has found to be one of their main feeding grounds.
The Spotted Ray has a slow growth rate (4-6 years to reach maturity). Females only bear a maximum of four pups per litter with a gestation period of approximately 1 year. In addition to the small litter size, the schooling behaviour of these animals and natural inshore habitat expose them highly to inshore fishing and exploitation.
"Traditionally in Bermuda, the Spotted Eagle Ray has rarely been eaten because of its poor quality of flesh. Due to their slow reproductive rate over fishing could happen very quickly and easily do irreparable damage to Bermuda's population of rays," said Dr Samia Sarkis of Conservation Services.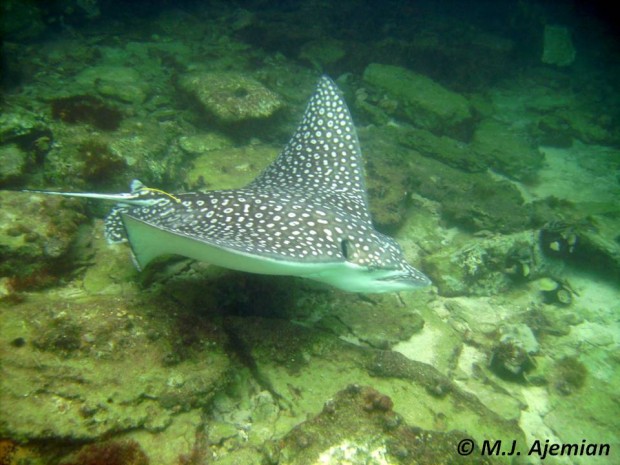 The species is listed as Near Threatened on the International Union for the Conservation of Nature (IUCN), the Red List of Threatened species and vulnerable in Bermuda local waters. This species is protected in Florida State waters, Australia, South Africa and Maldives. The Bermuda Government has also recognized the vulnerability of this species and has endevoured to ensure that this species will be protected and thrive in Bermuda waters.
Minister Blakeney said: "Acting so quickly on an alarming increased level of recreational fishing for the species shows foresight by the Ministry of the Environment and Sports. The issuance of this order was made possible through the hard work and overwhelming support of all parties involved. It is an action which will be recognized by international environmental organizations, bringing a positive image of Bermuda worldwide and setting it as an example for the wider Caribbean region."
[Thanks to Matt Ajemian for the photos. You can read more about the ecological role of Bermudian spotted eagle rays here on the BermudaBream blog]
Read More About
Category: All, Environment, News