The Vasco Da Gama Club held a Gala Dinner last night [Oct 9] at the Fairmont Hamilton to celebrate their 75th Anniversary. Named after the famed Portuguese explorer, the Club, located on Reid Street, is a central place for the island's strong Portuguese community.
The event was organized by the executive  committee, who are pictured below from left to right: Rui Medeiros, Armando Peichoto, Michael Maiato, Edward Correia, President R. Paul Fortuna, Andrea Moniz-DeSouza, Antonio Pacheco and Miguel Pereira.
-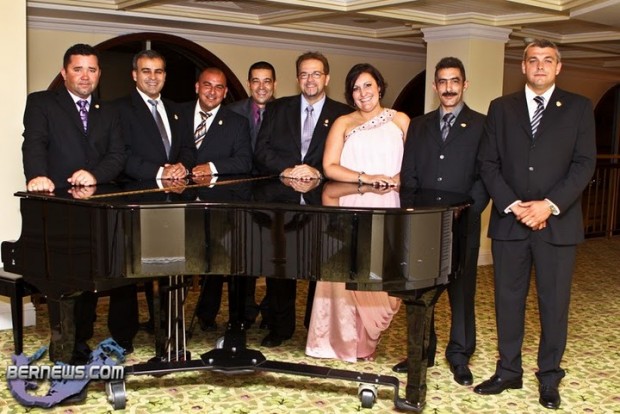 After relaxing and mingling at their cocktail hour, the guests sat for dinner to be served. While dinner was served, a slide show was shown highlighting different eras of the past 75 years including past presidents and sports teams. A presentation was made by the club president and gifts were presented to past serving presidents, and they were thanked for their service.
-

-
The musical band Starlight were introduced and
as witnessed in the video
had the crowd dancing and singing the night away. The evening came to a close near midnight having started at 615pm at the Fairmont Hamilton Princess.
-
Photos by Only the Best, click to enlarge:
-
You can view videos of the event here, and in addition Vasco has just unveiled their new website VascoBermuda.com, which is available in both Portuguese and English and contains a wealth of information about the Club.
Read More About