Maintaining Bermuda's footprint in the international business arena and raising the Island's profile as a premier destination to conduct business were just some of the discussion topics when the Minister of Business Development and Tourism Patrice Minors met with the Cheryl Packwood, CEO of Business Bermuda.
The meeting, which took place Wednesday (Nov10), was an opportunity for the two to discuss areas of mutual concern, with Minister Minors sharing with the CEO her Ministry's mission for ensuring cohesiveness between the Island's twin pillar industries – tourism and international business.
Pictured below left to right; Cheryl Packwood, CEO Bermuda Business, Minister Minors and Pamela Burrows, Ministry of Business Development and Tourism Acting Permanent Secretary.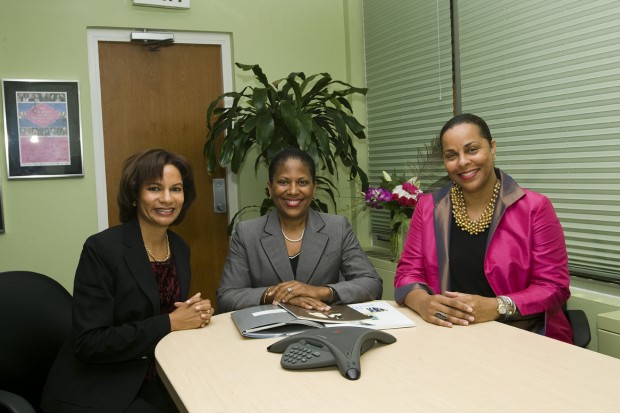 Ms Packwood echoed the Minister's sentiments that there's interconnectivity between the two industries, pointing out that when she travels on behalf of the Island to promote Bermuda as a business destination, she never misses an opportunity to highlight the tourism component to her audiences.
Providing Ms Packwood some insight into her mandate, Minister Minors said, "I, along with my Ministerial colleagues, have been charged to 'produce' within our respective responsibilities. It's clear that not only maintaining, but expanding our footprint in the international business arena is key if we are to continue to ensure Bermuda's success in this sector. With the bringing together of International Business and Tourism into one Ministry there are countless opportunities for synergy – with the right strategy."
Since Minister Minors was appointed as the new Minister for the Ministry of Business Development and Tourism, she has been meeting with key stakeholders in both the tourism and international business sectors. This morning (Nov 12) Minister Minors is meeting with the CEO of JetBlue Airlines, Robert Land and next Wednesday she will visit the Bermuda Stock Exchange and meet with its President and CEO Greg Wojciechowski.
Read More About