[Written by Linda Down, Member of the Bermuda Democratic Alliance]
Wow – how is it possible that a year has passed since a small group of very frustrated – yet hopeful people, gathered together to form a new party to try and get this ship turned around in a better direction! The Bermuda Democratic Alliance a year ago was perhaps considered by some not to be a viable entity – but a year into this – with a whole lot of dedication and hard work – we are not only viable but a force to be reckoned with!
Comprised of diverse group of individuals that mostly have never aspired to be politicians – based on the stigma attached to this profession – mostly a group of professional, passionate, intelligent, hard working, rational, sensible, non-self serving individuals that simply want a better way forward for Bermuda.
It may not seem from the outside that we have accomplished that much – but one has to remember – we have very little voice as we are not the official opposition, we are not the Government – in order for us to really be heard or to make changes occur – we need to be one or the other. We need your help and support to make this happen. We all know what the problems are – we have real solutions and have shared them with the Government, some acknowledged, some ignored – we are not here to criticize anyone – that is just more of the same and a waste of precious time – we just want the right people making the right choices and decisions for Bermuda and it's people – not for a party and a few chosen beneficiaries. Look at our website to see what how far we have come.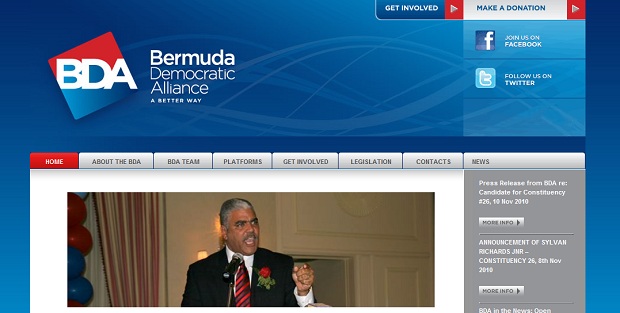 For those of you that are simply tired of the excuses, the lack of action and the wasted time – and want real solutions put into action then get involved – I know how easy it is to sit back and wait for someone else to do it – but think of your children and the Bermuda we are leaving for them – the state that it is in now and then think again about giving a little of your time to effect change.
I want to pose a few questions to each and every reader – how many of you are packing your lunch to take to work now to save money? Increased your credit card limits? Taking the bus or ferry to save on gas and parking? Dining at home more? Holiday's at home? Less nights out to save on babysitter cost?
Fasten your seat belts as this is just the beginning. Jobs lost – many will never be recovered as those jobs are gone forever. Businesses that close are closing at a loss and will never reopen. Technology will replace many jobs and along with the cost of doing business here there is a very bleak future. We desperately need to hold onto the International companies that are still here and all Bermudians need to get off this "hate expat syndrome" and realize how much they contribute to our economy. I will bet that not one reader has gone unaffected by expats leaving Bermuda – either you worked for the company that left, they bought a car from your company, had their hair done in the salon your work in, or dined in the restaurant you work for, a relative perhaps cleaned their house, or did landscaping for them, or worked in the grocery store where they shop, a taxi driver that drives for them, your children babysit for them, they rent your house so that you can pay the mortgage . Understand how this works?? They spend a lot of money here and it affects each and every one of us directly or indirectly. When business slows down – people get laid off. When they are gone who are you going to blame and who will become the next target of contempt? We need them and we need the industry.
The economic downturn in the fell in our Government's lap and is being used as an excuse for the state of our economy – hello – this was predicted years ago and we know we fall behind the US by about a year with economic change – more than ample time to prepare – but prepare they didn't – no savings for a rainy day – and now it's pouring and we are in a deep puddle about to drown. Who in their right thinking mind would want to take on this country at its lowest level? It would be a daunting, thankless task – but are we just to give up and abandon ship? I think not – there is way too much to lose. Wake up Bermuda and get on board with the group of selfless people that wants a better Bermuda for our children heading on a different course for their future.
Read More About