The Christmas season started 'Bermuda-style' last night [Dec 8], as Cedarbridge Academy students put on their Christmas Play "Eh Ehn Bye! Santa's Too Big!," which is the Bermudian take on "Oh No! Santa's Too Big!!".
Written and directed by Patricia Nesbitt, the comedy show started with Santa, along with Mama Claus, returning from Bermuda after attending Cup Match and eating so much potato salad, peas and rice, and fried fish that Santa gained 100 pounds.
"Nursey Elf" had to design a diet that will help him lose the weight because he can't fit into his suit, as if he doesn't lose the weight, Christmas will be cancelled. All of this caused much stress on Santa's household, which played out onstage.
Students have been diligently rehearsing, attending special weekend rehearsals as the show date approached, and the dedication was clearly evident in during the performance, which was smoothly done and enjoyed by all.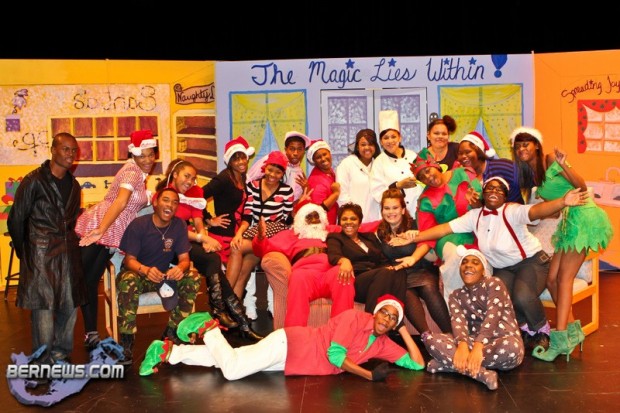 Santa was played by Naason Swan, with Mrs Claus played by Ali Zweiner. Shaquille Crockwell-Lathan played Mashers, LaShae Leverock played Smarty Elf, Shayna Simons played Nursey Elf, Andre Hassel played Baby Elf, Jevicka Lawrence played Winy Elf, Dennisha Roberts played Greedy Elf, Santina Harvey played Nicey Elf.
Mauricka Bradshaw played Snickers, Khaivon Catsro played Fashion Elf, DeAzrha Chambers played Grumpy Elf, Lateef Trott played Police Elf, Olieva Martins played Chef Elf. Numerous other students took part as dancers, playing street elves, as stagehands, light assistants and more.
Photos by Only the Best, click to enlarge:
Read More About
Category: All, Community, Entertainment, News, Photos