Fairmont Bermuda today [Dec 9] announced that four Bermudians have been appointed and promoted at The Fairmont Southampton Hotel. They are pictured below from left to right: Vanessa Bartley, Kim Wilson, Judy Maybury, Christina Judd.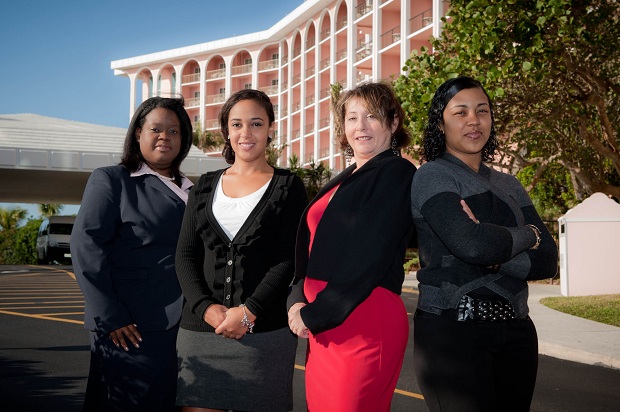 "Once again, I have the pleasure of announcing the appointments and promotions of these skilled, enthusiastic Bermudians," says Nelda Simons, regional director of human resources with The Fairmont Southampton. "At Fairmont Bermuda, we are dedicated to providing career opportunities to those colleagues that want to progress and these four people prove that motivation and hard-work can result in successful, exciting careers at Fairmont. I congratulate them on their promotion/appointment at Fairmont Bermuda."
Vanessa Bartley has been promoted to guest services manager at The Fairmont Southampton. Previously she was a concierge agent, a position she has held since 2007. Prior to that, she worked as a public relations intern and was on the public relations team at the Bermuda Department of Tourism's New York office.
Ms. Bartley graduated magna cum laude from Clark Atlanta University in Atlanta, Georgia with a Bachelor of Arts degree in mass media arts with a concentration in public relations. She also completed a postgraduate certificate in international communications at Macquarie University in Sydney, Australia.
Christina Judd has been promoted to quality of life manager, staff and housing at The Fairmont Southampton. In her new role, Ms. Judd is responsible for managing and overseeing the dormitory, Astwood Cove and Faraway Housing complexes, as well as coordinating the scheduling and organisation of the hotel's extensive employee relations programmes.
Ms. Judd joined The Fairmont Southampton in August 2007 as a spa experience coordinator, and was promoted in March 2008 to the position of human resources coordinator. In 2006 she graduated from Continuation School's GED programme.
Judy Maybury has been hired as a sales manager at The Fairmont Southampton. Ms. Maybury is responsible for the local corporate and government group markets. She joins The Fairmont Southampton from Coldwell Banker/Bermuda Realty where she was a residential property manager. Prior to that she was an event manager at Total Group for four years. She worked at Sonesta Beach Resort from 1988 to 2003, initially as catering and conventions manager and latterly as director of sales for Bermuda.
Ms. Maybury has completed the Dale Carnegie Course at the Chamber of Commerce. She received the Youthnet Mentor Award in 2008 and was recognised as a one of the Business Women of the Year in 2002.
Kim Wilson has been promoted to sales manager at The Fairmont Southampton. Ms. Wilson was hired at the hotel in July of this year as a sales coordinator. She has experience in marketing and graphic design through roles that she held with various American firms prior to returning to Bermuda.
Ms. Wilson graduated from the University of California with an honours Bachelor of Science degree in business administration with an emphasis on marketing. She also studied Spanish at Universidad de Cordoba in Cordoba, Spain.
Read More About
Category: All