The daughter of Kirk Simons, who tragically lost his life in a road accident this weekend, paid tribute to her dad saying "No matter what I've always known he was just a phone call away." Her mother Tamika Penn said "It breaks my heart that he will not be there or at any other achievement Tiana has in her future. I'm saddened that such a tragic event took him from us."
Tiana Simons, 16, said she wishes she had "more time together, more moments shared and more to share. As he left the world he shall never leave my heart."
Mr. Simons, 39, suffered fatal injuries after the motorcycle he was riding was in a collision with a taxi on Harbour Road in Paget near the junction with Chapel Road around 1:45am on Saturday morning [Dec 11]. The Police say that it appears that a taxi was exiting Newstead hotel and the motorcycle was traveling along Harbour Road when the vehicles collided.
A talented athlete, Mr Simons played football for teams including the Somerset Eagles, and was Captain of the Somerset Bridge Cricket Team when they played in the Western County Cup competion against PHC earlier this year. He is pictured below in yellow: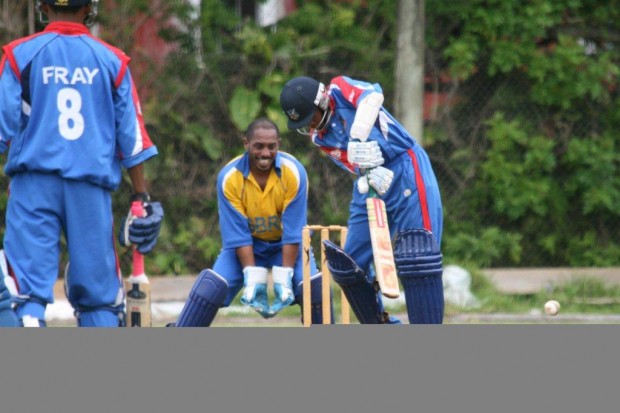 Prior to yesterday's [Dec 12] match against the St David's Warriors, the Somerset Eagles had a moment of silence in honour of Mr Simons as shown below:
Tiana, who lives in the United States with her mother said "Although I seldom saw my father I always knew I was greatly loved and cared about. No matter what I've always known he was just a phone call away. He always did what he could and had to to make sure I always had what I needed. He always used to say "Im gonna do what I have to do for my kids to never want for anything." I admired that and I know I will strive to do the same in my life. In the face of every adversity he was always my voice of reason. Telling me to hold on, move on, be patient, intelligent, wise, and strong. It saddens me that in my greatest time of need and desperation he's not here to encourage me and push me through."
"He was accepting and understanding and never judgmental. His blunt honesty is something I'll always cherish. It pains me to know that he won't be around for my many milestones yet to come. He will not attend my high school graduation, my college graduation, he won't be around to threaten and disapprove of my choice in boyfriends, he'll never walk me down the aisle or get to hold his grandchildren. I would've never imagined that this would happen but then again what person does? We all know the circle of life and death and at this point in my life I understood that it was possible but not at all probable that I would lose my father."
"Now that he's gone I'm posed with many thoughts and unanswered questions that only he would understand. And I will always miss him but I refuse to stay saddened for long. I know he wouldn't want to see me go through this pain. This situation is a mere test of my strength and mental stability. As I contemplate my life I can't seem to figure out what led me to this point but I know that it is through my fathers strength that I myself are strong. I wish we had more time together, more moment shared and more to share. As he left the world he shall never leave my heart. For now he is only closer."
Tiana's mother met Mr Simons at St Francis College in Brooklyn, New York when she was 17. They started dating and two years later they had Tiana. Tamika Penn spoke warmly of Mr Simons saying "He was a good dad. He took care of her and always put her first."
Ms Penn said "In the more recent years, he moved back to Bermuda. Even though they didn't see each other much, he still reached out to her & called to make sure she was ok. He was always the voice of reason when I needed someone to talk to who was impartial to the situation. He was planning on attending her high school graduation next year & it breaks my heart that he will not be there or at any other achievement Tiana has in her future. I'm saddened that such a tragic event took him from us. He will be missed."
Opposition Leader Kim.Swan expressed his deepest sympathies to Mr Simons's family and friends saying "As a former Somerset Bridge/Eagles player myself, it is like if a member of my own extended family has been taken; and a sad reminder of the many friends and family that we have lost tragically on our roads over the years.My heartfelt sympathies also go out to my Somerset Bridge Recreation Club family as Kirk was a player who actually captained our County Cup team. May God provide comfort to all those who are grieving this tragic loss."
Mr Simons leaves behind many devastated friends and family members, including a younger child, 5-year-old Malachi.
His death marked the 11th road fatality for the year. Police are continuing to appeal for any witnesses to this collision to contact Inspector Phil Lewis on 295-0011.
Read More About