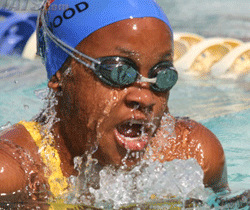 Bermudian swimmer Ashley Yearwood captured two bronze medals at the Nike Swimming Winter Invitational hosted by Baylor Swim Club that concluded yesterday [Jan 17] in Tennessee
The teenager won a bronze medal in the Girls 100m Freestyle, clocking 56.72 and then picked up another bronze medal in the girls 50m Freestyle with a time of 25.69.
Ashley competed in a number of other events, finishing 10th in the Girls 200m Freestyle with a time of 2:02.30, she also finished 8th in the Girls 200m Backstroke finishing in 2:20.23. In the Girls 100m Butterfly Ashley finished in 1:05.07 which saw her place 9th, before finishing 11th in the Girls 200m IM with a time of 2:21.72. Ashley also competed in the Girls 100m Backstroke where she finished 8th with a time of 1:04.23.
Her 18 year old sister Nicole competed in eight events, recording a top ten finish in every race including two fifth place finishes in the Girls 100m Freestyle with a time of 56.89, and the Girls 50 Freestyle which she swam in 26.10 to finish 5th.
Last month the sisters competed in the 2010 South East Meet of Champions, winning a staggering nine medals between them.
Read More About