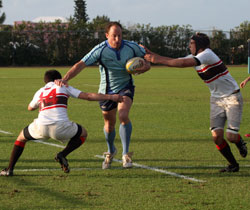 Bermuda's population of 65,000 pales in comparison to Mexico's 110 million, but that did not stop the Bermuda Select Rugby Team from picking up the win today [Feb 10].
The Bermuda Select got their 2011 Las Vegas Invitational 7's Tournament off to a winning start when they defeated Mexico 19 – 17.
Bermuda started the game looking for revenge after going down to Mexico who scored a injury time try and conversion at the NACRA 7s last November.
Bermuda this time came from 2 tries down to win. John Jackson scored the first 2 tries for Bermuda, both converted by Captain Tommy Edwards.
Mexico regained the lead, before Mike Kane's [pictured] injury time break and off-load put Jack Ellison away to score the winning try in the corner.
The Bermuda Select are in Pool A of the Men's Elite 7's Division, they next take on the University of Victoria, before closing out their First Round against Russia.
Bermuda Select Team:
Tommy Edwards (Capt, Police)
Gareth Williams (V Capt, Mariners)
Kris Furbert (Mariners)
Henry Paddison (Teachers)
Scott Cobon (Teachers)
Mark Dymond (Mariners)
Dan Cole (Police)
Ralshon Douglas (Police)
Neville Zuill (Police)
Mike Kane (Police)
John Jackson (Police)
Jack Ellison (Teachers)
Coach : Lawrence Bird
Manager : Allan Steynor
Read More About