The staff and students of Tomorrow's Voices-Bermuda Autism Early Intervention Centre were given a much needed boost recently as the charity was the recipient of a second hand van, donated by Bermuda Cancer and Health Centre.
The van, which will be used to transport Tomorrow's Voices' clients and staff around the Island, was previously used to distribute health educational items for the cancer charity. As their needs grew greater, Bermuda Cancer and Health Centre decided to purchase a larger vehicle. Financial planning allowed the Centre to make provisions for the purchase of a replacement vehicle this year.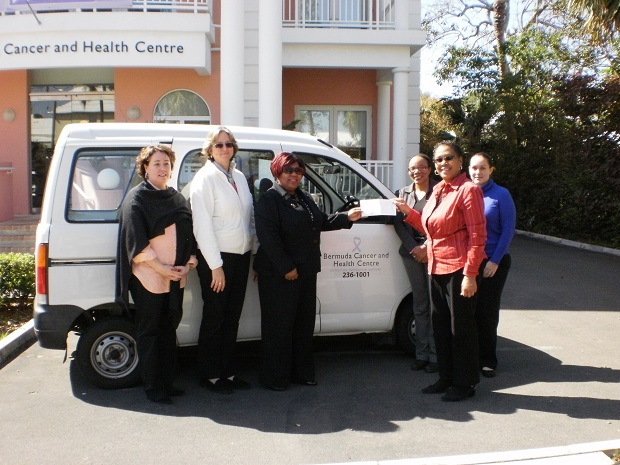 "The purchase of a new vehicle is quite prohibitive for most charities" says Tara Soares, Executive Director Bermuda Cancer and Health Centre "Funds raised through events and sponsorship are usually directed to support the Charities programmes, leaving expenses such as a new vehicle hard to fund."
Bermuda Cancer and Health Centre, knowing its own need as a charity, took the decision to donate their former van to assist another charity. With assistance from The Centre on Philanthropy, Bermuda Cancer and Health Centre was put in touch with Tomorrow's Voices, who as a new charity were able to exhibit the need for a vehicle.
"We are pleased to support Tomorrow's Voices" adds Ms. Soares "This Charity has demonstrated a strong connection within the community and we hope the donation of this van will support their mission."
Pamela Barit Nolan, Executive Director of The Centre on Philanthropy was also on hand to lend her organisation's support stating that "One of the pillars of The Centre on Philanthropy's mission statement is to foster effective partnerships. Today's gift from Bermuda Cancer and Health to Tomorrow's Voices was facilitated through The Centre – we work hard to bring members of the community together to bring about positive change – this is a great example of that. The gift means even more to us as it involves two nonprofit Centre members and demonstrates how collaboration amongst nonprofits can make profound differences – we know that Tomorrow's Voices will make great use of the van and we thank the Board and staff of Bermuda Cancer and Health for their generosity to another local charity!"
Chairman of the Board of Directors of Tomorrow's Voices, Erica Smith, expressed gratitude for the generous donation: "On behalf of our children, their parents, our staff, and the Board of Directors of Tomorrow's Voices, I am overwhelmed by the amount of support we have felt amongst the Bermuda community with regard to our centre. Within a short 3 years, we have taken a simple idea of an early intervention centre and made it a reality through partnership and support just like we have experienced here today with this incredible donation from the Bermuda Cancer and Health Centre and through the facilitation of The Centre on Philanthropy. Our service delivery will be enhanced by this van. Thank you doesn't seem like enough!"
Pictured from left to right are:
Tara E. Soares, Executive Director – Bermuda Cancer and Health Centre
Pamela Barit Nolan – Executive Director – Centre on Philanthropy
Erica Smith – Chairwoman -Tomorrow's Voices Board of Directors
Dr. Kimberly Mills – Executive Director – Tomorrow's Voices
Rhonda Smith-Simmons – Education Officer – Bermuda Cancer and Health Centre
Ashley Dacosta – Education Officer – Bermuda Cancer and Health Centre
Read More About
Category: All