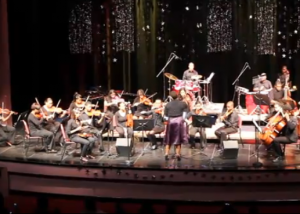 The Cedarbridge Academy String Ensemble is preparing to make their international debut next month, as the group was invited to perform on the Waterside Stage at Downtown Disney in Orlando, Florida on April 4th, 2011.
The String Ensemble began in September 2008 with only 3 students, and has now grown into a fully fledged group.
The String Ensemble currently compromises of 18 students; 9 violinists, 2 violists, 3 cellists, 2 bassists, 1 pianist and 1 percussionist and is conducted by Tiffany Fox. Students rehearse four days a week in class, with one additional weekly rehearsal after school.
Their performance repertoire includes themes from Pirates of the Caribbean, Ice Castles and the musical RENT, as well as chart toppers by popular musicians such as Coldplay, Michael Jackson, Katy Perry and Lady Gaga.
After viewing an audition video of the 2010 Primary School Tour, the Walt Disney resort invited the students to perform at the popular vacation destination. CedarBridge Students were not aware that the video taken during the Primary School Tour would be used for anything other than archival purposes, however it was sent off and earned the young musicians an invitation to perform.
The ensemble will be also touring the primary schools in the east end this year on March 30, 2011. Conductor Tiffany Fox said, "Students really look forwards to performing for the Primary Schools because the students are so enthusiastic. The sing-a-long and cheer like the performers are rocks stars. We alternate between east and west each year."
On the Florida tour, which kicks off April 4th, students will be participating in a workshop with one of Disney's conductors and taking in a performance of Blue Man Group.
The final fundraiser will be held on Saturday, March 26th, 2011, and will be a "Bon Voyage Concert and Potluck at Christ Anglican Church in Devonshire. It starts at 4pm, and admission is $5, and all proceeds will go to funding the tour. The community is encouraged to come out and support our young musicians as they prepare to make their international debut.
The video below is from the CedarBridge Academy String Ensemble's Winter Concert in December 2010:
Read More About
Category: All, Entertainment, Music, News