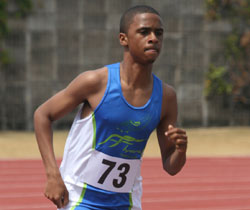 Bermudian athlete Dage Minors, who attends boarding school in the USA, recently helped his school team set two new school and state records at a track meet in Boston.
The St. Johnsbury Academy's indoor track team wrapped up its season with a several record-breaking performances at the New England Championships, held at the Reggie Lewis Center in Boston.
The 4×800 relay team of Dage Minors along with Ben Bunnell, Lucas Grenier, and Hayden Bunnell broke both the school and Vermont records.
In addition, Dage combined with James Fitzhugh, Cam Bolden, and Brian Fubler to set a new school record in the 4×400.
Dage Minors has qualified for the 2011 Carifta Games, with his time of 4:14.40 reaching the "A" standard in the U17 1500m boys.
Read More About