A greeting party of Somersfield students – some holding British flags – met His Royal Highness The Prince Edward Earl of Wessex when he arrived at Somersfield Academy today [Mar. 17].
His Royal Highness arrived and was met by students and Head of School Dr. Jim Christopher who introduced him to Chairman of the Board of Governors Tom Vesey and The Duke of Edinburgh's Award Leader at Somersfield Stacey-Lee Williams. HRH was accompanied by the Governor Sir Richard Gozney.
The group was led to the Somersfield library where HRH attended a meeting of the Duke of Edinburgh's Award in Bermuda Council before then being escorted to the school's Common Room to meet Somersfield students involved in The Duke of Edinburgh's Award in Bermuda.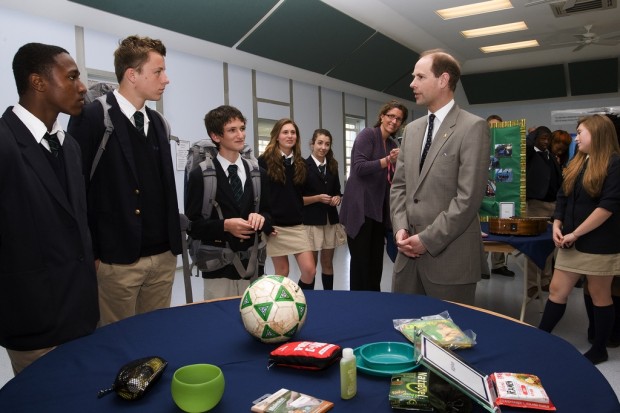 HRH then departed Somersfield to make his way to the Royal Bermuda Yacht Club to watch the Optimist and 420 sailing. While he was at Somersfield, his wife toured Dame Marjorie Bean Hope Academy. After arriving at 7pm last night, the Earl and Countess of Wessex started off their busy schedule for the day by visiting The Centre on Angle Street and presenting Gold Awards to ten young Bermudians who earned them through the Duke of Edinburgh Awards in Bermuda.
Read More About