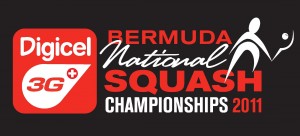 One of the major squash events of the year gets underway at the BSRA courts in Devonshire tomorrow [Mar.13] through to next Saturday 20th March, with the holding of the Digicel 3G+ National Squash Championships, with over 100 players participating.
Squash spokesman, Roger Sherratt, says that Men's Open Division in particular is more competitive than it has been in many years and could spring a few surprises although the #1 seed Patrick Foster, former World #69, and the present BSRA Director of Squash, has to be favourite to win the title he has held since 2006 for a record 6th consecutive victory.
Mr Foster has to be up to the challenge though because there are three excellent players who will be determined to take his title. The #2 seed, Nick Kyme, is without doubt Bermuda's best ever home-grown player and a 13 time BSRA Club Champion who will be looking to retain the title he last won in 2005. However, his wife is expecting their first child imminently so his mind may be on other matters.
Perhaps the dark horse this year is #3/4 seed, Micah Franklin, who is currently living and training with the Dutch National Team in Amsterdam. Franklin is flying in especially for this event before heading onto his first Pro Tour event in Cayman in April. Mr Franklin was improving in leaps and bounds even before he left for Amsterdam, and local squash fans are eager to see how much improvement his international training has made. Still a junior, he will have tremendous support from Bermuda's young squash enthusiasts, and he has the potential to make a big impact on the international squash scene.
Another strong challenger for the title is Canadian, Andrew Mount, who recently arrived on the Island. Although a somewhat unknown quantity he was the Men's Varsity Coach at the University of Western Ontario before taking up the position of Assistant Director of Squash, and he signaled his intent by winning his first event in Bermuda, the Sir Michael Edwardes Doubles tournament with partner Peter Green.
One other outstanding player to watch in the Men's Open Division is Noah Browne, the current Caribbean Under17 champion who is studying and training in the U.S. Mr Browne lost out in an exciting match to Franklin in the final of the Bermuda Junior National Championships in December, but the tall and talented player moves around the court with ease, and is determined to make his mark on the senior game.
In the Ladies Open the perennial rivalry between Liz Martin and Denise Kyme is expected to continue. Both have won numerous titles but this year they will face a strong challenge from 17 year old Rachel Barnes, the Bermuda National Junior Champion who has returned to the Island for this tournament. Studying and training in the U.S. this will be Rachel's first real shot at winning the Ladies National title.
Competition in the Men's Veteran's is also fierce, with #1 seed Eugene Bothello, last year's champion, looking to repeat his victory in a thrilling 5 games match against Andy McComb who is looking to turn the tables for his first National title, but both face strong challenges from brothers Jan and Richard Brewer. Jan Brewer in particular must feel confident heading into the championships after defeating Bothello in the BSRA 2010 Club Championships.
The Digicel 3G+ National Squash Championships run from Sunday through to the finals on Saturday March 19th starting at 5pm.
Entry to the BSRA is free and members of the publics are welcome to watch what should prove to be a very high quality championship.
Read More About