[Updated] This afternoon [Apr.29] a body was found floating in the water in the Fairylands area. The Police are presently on scene, and have confirmed the body found was that of a black female.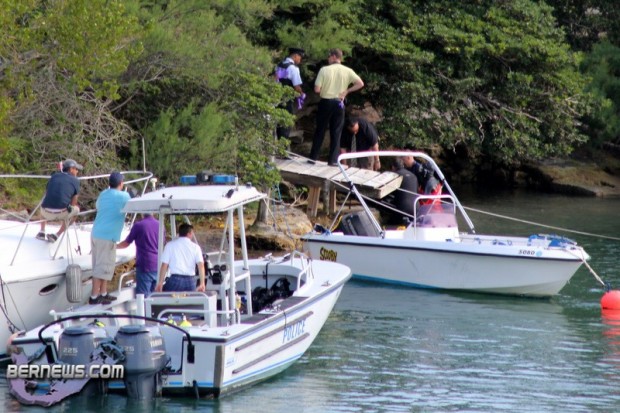 The Police said at this stage they are not sure how long the body has been in the water, and said they will not be revealing any further information at this time. Assistant Commissioner David Mirfield said that the body will be forensically recovered, and an autopsy will be performed. The Police have asked for anyone who may be aware of someone missing who fits that description to please contact them on 295-0011.
A video statement from Mr Mirfield is below:
Update 5:39pm: The Police have released a statement, and said that the female was wearing a medical bracelet for diabetes. Their full statement follows below:
Around 2pm on Friday, Police responded to a report of a body in the waters off the Mill Point Road, Pembroke area. The unidentified lifeless body of a black female wearing a medical bracelet for diabetes was recovered and a full investigation into this incident is underway.

No further information will be released until the next of kin has been notified. Detectives are attempting to identify the deceased and appeal for anyone who may have a missing family member or friend or anyone with any information to contact the main police number 295-0011 or the independent confidential Crime Stoppers Bermuda hotline on 800-8477.
Update May 3: Police confirmed identified the woman as 45-year-old Denise Evans Wilkinson of Pembroke parish. The Police have not officially classified it as a murder as such, but they are investigating the case as a suspicious death.
Read More About