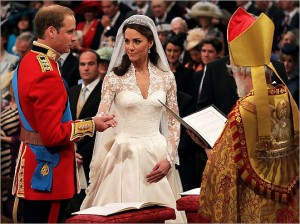 After attending the royal wedding of Prince William and Kate Middleton at Westminster Abbey this morning [Apr.29] Premier Paula Cox said the service was "beautiful, simple, elegant; and it was delightful to have been a witness to such a joyous occasion."
The Premier said she and husband Germain Nkeuleu were pleased to have represented Bermuda at the ceremony, noting the grand, flawless wedding managed to combine traditional pomp, circumstance and pageantry with a distinctly human dimension.    
It was announced last week the Premier had been invited to attend the London royal nuptials. She and her husband were among just 1900 guests invited to the ceremony at the thousand-year-old London abbey.
But an estimated worldwide audience of more than two billion people watched the wedding on television. Thousands of Bermudians and Bermuda residents got up early to view coverage which began at 5 am local time. Both the Robin Hood pub in Hamilton and the Bermuda Musical & Dramatic Society hosted royal wedding-watching parties which got underway in the pre-dawn hours.
And this afternoon Project Action held a Bermuda Reception "High Tea" in celebration of the wedding at the Fairmont Hamilton Princess. Tapes of the ceremony were played and a silent auction was held at the fund-raising event for senior citizens.
An Associated Press news service report on how the wedding was being celebrated in current and former Caribbean British territories cited the Project Action tea — but mistakenly claimed Bermuda had declared a national holiday to mark the royal nuptials.
AP reported: "In the tiny British Atlantic territory of Bermuda, a charity for senior citizens is hosting an afternoon 'high tea' at a swanky hotel where attendees can view the BBC's royal wedding broadcast while snacking on cakes and savories. Guests are expected to show up in their most conservative clothes 'We"re saying high tea attire if so desired," said Cindy Swan, whose Project Action charity provides free transportation for seniors. 'Ladies in hat and gloves and men can come in their top hats and morning suits'.
"In fact, the wedding has prompted Bermuda, the Cayman Islands, the Turks and Caicos Islands and others to declare Friday a public holiday. St. Kitts and Nevis and other sovereign Commonwealth nations have issued stamps to mark the royal engagement and wedding …"
The Premier said she and her husband  had been well placed to witness the hour-long service.
"Germain and I were very well situated in terms of our seating arrangements," said the Premier. "We were in a wonderful place to people watch, given we were seated just behind the foreign and British royals.
"We were fortunate to be located near the Lantern section of Westminster Abbey as it gave a complete view of the procession. In fact, the positioning of the Commonwealth and Overseas Territories was strategic and underscored the relationship between the Territories and Commonwealth generally."
Attendees at today's royal wedding reception at Lancaster House: (Left to right)  UK Foreign Secretary William Hague, Premier of the Cayman Islands McKeeva Bush and his spouse Kerry Bush, Premier of Bermuda Paula Cox and her spouse Germain Nkeuleu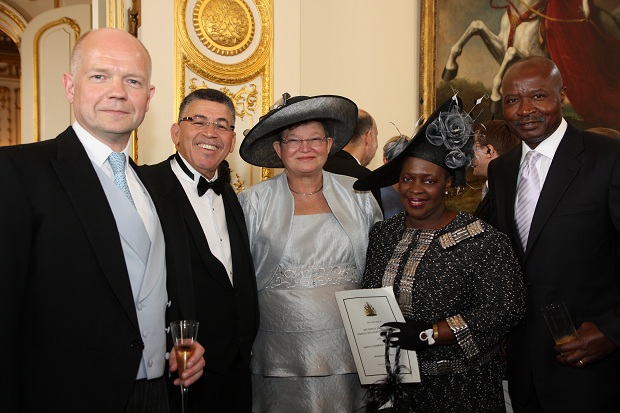 "The bride looked stunning and one could overhear many compliments from those around us. Even men seemed touched by the aura and apparent sentimentality; we all want to see people happy and in love and the feelings of the about to be newly-weds seemed so heartfelt and genuine that it pulled at people's heart-strings.
"The choir was fantastic, the music was magnificent. The people were elated and happy. They waved, clapped and were just so thrilled.
"The ceremony had meaning and even in the beautiful expanse that is Westminster Abbey, what impressed me was the sense of warmth and intimacy. I was pleased to have been able to attend and glad that Bermuda was represented. This wedding was special.
"Prior to the start of the wedding, the groom passed very nearby when he entered from the side door to assume his position. He looked comfortable and was very social, polite and warm. Prince Harry also elicited a laugh from the crowd at some of his expressions, and, when he mouthed how beautiful the bride looked to his brother.
"Her Majesty Queen Elizabeth drew admiring looks in her striking canary yellow ensemble. Many of the other female Royals also looked very elegant and there were some show-stopper hats in every hue that you could imagine worn by the special guests.
"I did have a chance to chat with some of the leaders of the Overseas Territories and we exchanged pleasantries on what we'd just experienced.
"When walking from the Foreign Secretary's reception, people were very friendly and waved and took photographs. They did not know who I was but I think the hat and the wedding programme I carried made them feel I may have been someone they should have known. They were so very warm and I and Germain were happy to respond."
Read More About