[Updated] Members of the Bermuda Public Services Union [BPSU] have gathered this morning [Apr.26] to voice their concerns, and are marching to the Cabinet grounds on Front Street. A flyer mailed out last week said "should the membership agree to take a 1.25% pay increase or salary freeze, the Government should agree there will be no redundancies at all or no wage cuts whatsoever".
The flyer also asked Government to "take all general and reasonable steps to advocate a price freeze for all essential products and services and to consider taking a paycut from their Ministerial salaries."
The latest updates will be posted on top:
Update 2:45pm: BPSU President Kevin Grant addressed the membership after the march. He said that the communication needs to be enhanced, thanked the members for coming out and said they will get back to work to show they are responsible as well. He also said that it is important to have lunch at their desks.
Update 2:01pm: The BPSU members leaving the Cabinet Grounds:
Update 1:01pm: On the note of the statements made by both the BPSU and BIU about having essential services freeze their prices, BELCO has already done so voluntarily for 2011, which they announced last year. BELCO said they have also implemented a freeze on their own employees salaries in 2011, saying it is an effort to prevent redundancies.
Update 12:50pm: Video below of the BPSU entering the Cabinet Grounds, singing "solidarity forever",. MPs coming out to meet them etc. We apologize for the audio quality, however were unable to set up a microphone.
Update 11:55am: We spoke with BPSU President Kevin Grant after the march, video below. Mr Grant said he felt it was a "positive march" this morning, and they wanted "to march to have an impact, an impact that sent a message that the BPSU is not crying out specifically for the membership, we are crying out for the whole of the whole island."
Update 11:32am: A copy of the letter handed by the BPSU to the Acting Premier Michael Scott this morning is below. The BPSU is requesting that there be no compulsory redundancies, reasonable steps to work towards a price freeze for essential goods, and that Ministers consider a salary cut – which the Premier ruled out last week.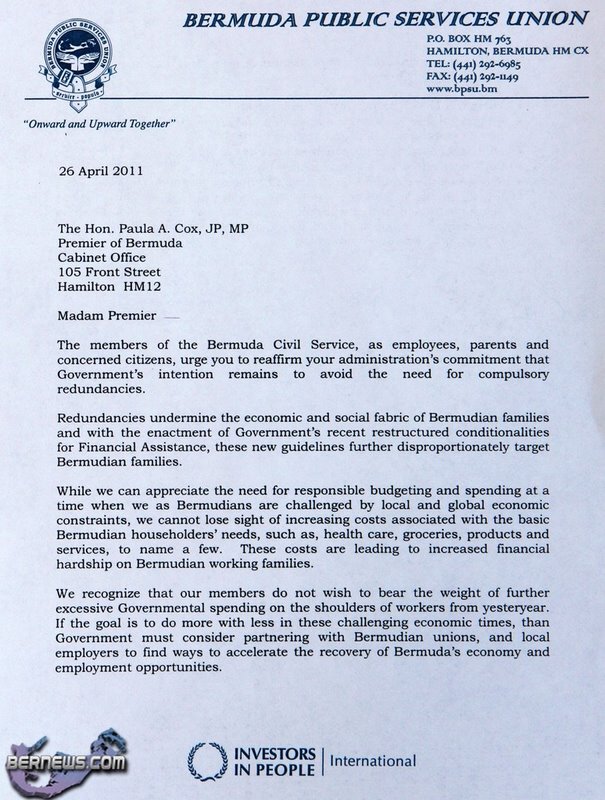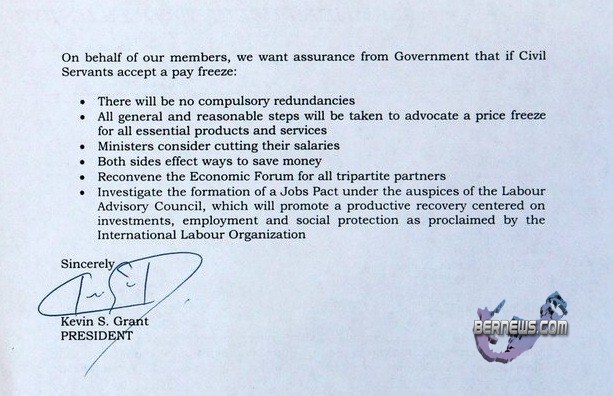 Update 10:46am: Photo slideshow of the group on the Cabinet grounds, courtesy of John Manderson

-
Update 10:42: They are arriving back at BPSU headquarters
Update 10:35am: The marchers are leaving after presenting Acting Premier Michael Scott with paperwork expressing their concerns.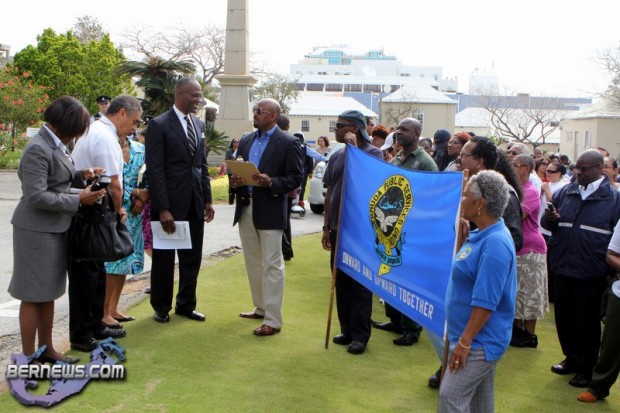 Update 10:23am: They have arrived at the Cabinet grounds
Update 10:05am: The members have begun to march:
Update 9:55am: Members continue to gather, and Ed Ball, General Secretary of the BPSU, addressed the membership:
Update 9:43am: BPSU Members are currently meeting at BPSU Headquarters. There is no Cabinet meeting today [as the Premier and Deputy Premier are off island], and it seems unclear if they will proceed with the march today, or delay it to another time
Read More About