Author of the "Daddy and I Explore" book series, David Chapman, hosted a book signing at The Bookmart today [Apr.23]. The series of educational children's books has four titles thus far, covering local environmental topics including the mangroves, farming, tide pools and Nonsuch Island.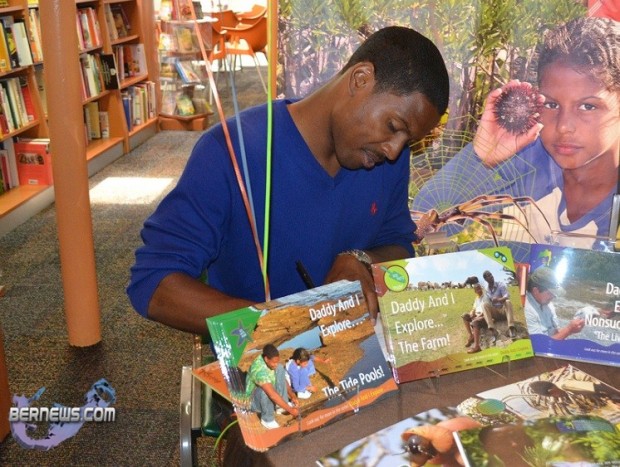 Mr Chapman has previously said that, "The core components of the series is to provide opportunities towards early literacy through a written medium that focuses on developing environmental appreciation and understanding in young people, while at the same time promoting the important social value of parents spending quality time with their children." His latest book, "Daddy and I Explore the Farm," has been distributed to schools across the island, with sponsorship provided by HSBC.
Mr Chapman has a Bachelor of Science degree from Hampton University in Virginia, a Teaching Certificate from Wheelock College, Boston, Massachussetts, and a MSc (Merit) from Royal Holloway University of London, and is presently obtaining his Ph.d. He previously worked at the Bermuda College where he lectured in Geography, BELCO as an Environmental Technician and Berkeley Institute as an Environmental Science teacher.
The books are available at The Bookmart and The Bermuda Bookstore. For more information visit Daddyandiexplore.com.
Read More About
Category: All