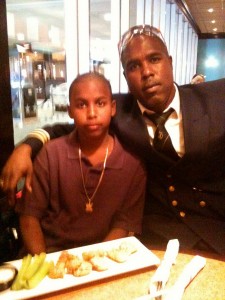 Bermudian Giovanni Burrows, who had been searching for his son Jasai Swan-Burrows for nine years, was finally reunited with him earlier this week — only to have the boy disappear again.
According to a friend of Mr. Burrows, US authorities removed Jasai from the custody of his mother, Kim Sakena Swan, and placed him in Mr. Burrows's care.
However he disappeared again just prior to a scheduled court appearance for a formal decision by US authorities on final custody.
In January 2003 — when Jasai was five years old — his mother took him to the United States and Mr. Burrows had not seen him since, although he has been relentless in his efforts to find his son.
According to Ms Sonja Oliveria who has been involved with Jasai's recovery, Bermuda's legal system had placed Jasai in the care and custody of Mr. Burrows in 2002. Ms Swan removed Jasai from Bermuda in January 2003 when she had temporary custody of her son.
Ms Oliveira said it appears that Ms Swan had a second child, a daughter. She said this second child, Jasai's half-sister, would now be about eight years old and was believed to be fathered by an American.
Ms Oliveira said information received during the almost decade-long search for Jasai had led Mr. Burrows' supporters to believe Ms Swan may have had several brushes with US law enforcement. She said searches showed that Ms Swan had been listed as either having no known address or as living in shelters for the homeless.
A quick online search for the mother's name leads to a page showing a mugshot and an arrest record for theft. The arrest record is from March, 2011, and shows her address as "transient" within the St. Petersburg Florida area. Additional data shows she was also arrested in 2010 in the same area.
Jasai has been listed as missing by Interpol for a number of years. He was also listed by the US National Center for Missing & Exploited Children [NCMEC], with their site saying, "Jasai may be in the company of his mother. They are believed to be in Jacksonville, FL."
"He may use the alias last name Butterfield. Jasai's father has applied for the return of the child to Bermuda under the international civil treaty: The Hague Convention on the Civil Aspects of International Child Abduction." Yesterday the listing was removed, however still can be seen through the cache system.
After nine years of searching for his son, Mr. Burrows was overjoyed to be reunited with Jasai in Florida earlier this week [pictured above]. Bernews had spoken with Mr. Burrows yesterday to obtain to permission to run the story about his son being found. But before we were able to report it, Jasai disappeared again.
The support group formed on Facebook said, "Jasai's mother is wanted by Bermuda and US authorities for unlawfully removing Jasai from his father's custody (and is under investigation for assaulting Jasai's father). Jasai was located and reunited with his father on May 5, 2011, but while in court to legally transfer Jasai back to Bermuda, his mother abducted him again. They are in the St. Petersburg, FL. area and likely homeless or seeking assistance from charities."
Ms Oliveria said that on May 5, Jasai was placed back in the physical custody of his father. He had been removed from his mother's custody after Florida police had raided a homeless shelter.
Yesterday [May 6] Jasai and Mr. Burrows were due to appear in a St. Petersburg court in order for the final legal steps to be taken. It is not completely clear if Ms Swan abducted him from the court area, or if Jasai, now 13, voluntarily left the care and custody of his father in order to return to his mother and half-sister.
Mr. Burrows is presently in Florida, and obviously this latest development was completely unexpected. However, he intends to keep up the fight for his son. He has already expended his savings on the nine year long search, and if anyone cares to make a small donation to assist with his expenses please feel free to make a transfer to HSBC account 010-465235-012.
Read More About