The Catlin End-to-End Event – Bermuda's largest fund-raising event – kicked off this morning [May 7] at King's Square in St.George.
The Middle-to-End [24km/14.7miles] starts at 10 am at Albuoy's Point in Hamilton, and the Fun Walk [5km/3miles] starts at 2 pm at Sandys Middle School parking lot.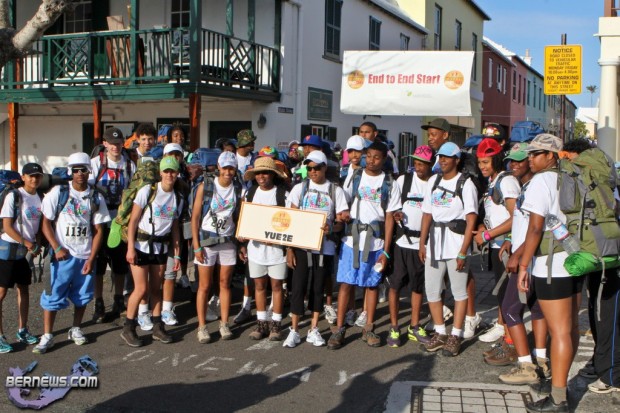 This year's fund raising goes to Meals on Wheels, The Family Centre, Windreach, Friends of Hospice, the Multiple Sclerosis Society of Bermuda, Lady Cubitt Compassionate Association, Caron, the Bermuda Duke of Edinburgh Award, Raleigh International, Bermuda Sea Cadets, and the Bermuda National Gallery.
Looking at the fund raising pages, James Gibbons from the Capital G team has thus far raised the highest amount – just over $5,000. First Atlantic Commerce and friends is the top group at $20021, with Team XL raising $11371 and Team RenaissanceRe having raised $6661.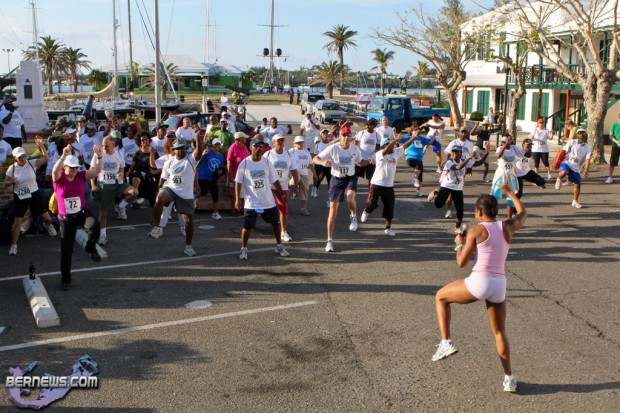 School groups are also participating, with Berkeley Institute raising $4850, Sandy's Secondary Middle raising $2316 and the team from Mount St. Agnes raising $2112.
There is even some political unity being shown, with the Health Minister's pledging page showing a donation from UBP MP Patricia Gordon Pamplin who said, "Happy to donate part of my parliamentary salary to a charitable cause. Best wishes with the walk."
Chuck Morgan has received over $2,500 in pledges so far, and his personal pledge was that he will do the end-to-end in a full sabertooth tiger costume.
Read More About