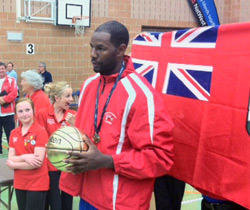 Hot on the heels of the Gold medal win at the 2011 Island Games, the Bermuda Basketball team has turned out another great performance, beating St Vincent's 75-56 last night [July 23] in the Bahamas.
Sullivan Phillips [pictured/file photo] led Bermuda with 18 points, 11 assist, 4 steals and 1 block. Jahvon Jones added 16 points, Jason Simons and John Lee added 11 points each.
17-year-old Yusef Tejour Riley, who was recently awarded a $20,000 scholarship by Digicel, had a monster dunk that sparked the Bermudian team to a twenty point lead.
St. Vincent made a run in the third quarter, but Bermuda used a valued timeout to end their run. Turnovers plagued the St Vincent team which cost them the double digit loss. In the losing effort for St. Vincent, Lezlo McKenzie had 17 points, while Dameon Ottley and Randolph Williams added 12 and 11 points respectively.
The 2011 Caribbean Basketball Championships, hosted by The Bahamas Basketball Federation, is being held at the Kendall Isaac's Gymnasium in Nassau, Bahamas, and end on July 29th.
This year's tournament features teams from Jamaica, US Virgin Islands, Antigua & Barbuda, Guyana, British Virgin Islands, Bermuda, St. Vincent & the Grenadines, the Cayman Islands, Cuba, Trinidad & Tobago, Dominican Republic and the Bahamas.
Read More About