The finals of the annual Argus Open tennis tournament were played today [July 23] at the W.E.R. Joell Tennis Stadium. The Men's Open Singles was won by Gavin Manders after an exhilarating playoff against Jenson Bascome for the title [6-4, 6-3]. Cayla Cross claimed victory over Catherine Cooke in the Ladies' Open Singles [6-3, 3-6, 7-5]. Erwin Leader took the Senior Men's Singles title against Christopher Bardgett [6-1, 6-2].
Meanwhile Jenson Bascome and Gavin Manders [pictured in centre below] reigned supreme in the Men's Open Doubles category over Alex Cooper and Jack Keyes. Tara Lambert and Jacklyn Lambert were victorious in the Ladies' Open Doubles title against Catherine Cooke and Ciara Svenson.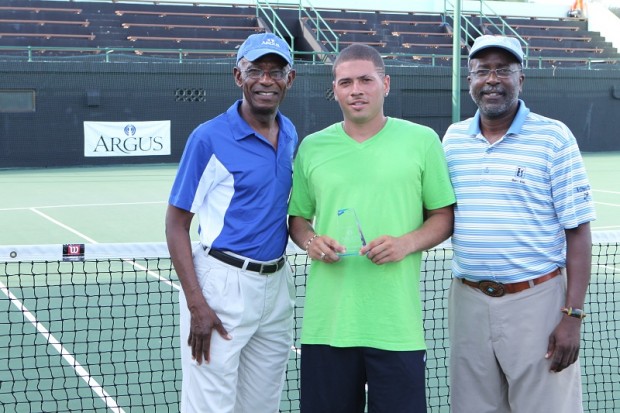 Jenson Bascome and Tara Lambert championed the Mixed Doubles competition against Gavin Manders and Jacklyn Lambert. Gill Butterfield and Sarah Cook were victorious over Elin Daniels and Cheryl Green in the Ladies Seniors Doubles.
As an added incentive to participate or come and support the players, this year anyone who attended the Argus Open was able to enter a free prize draw to win a pair of tickets for this year's U.S. Open, taking place in New York from August 29 until September 11. The winner drawn at the prize-giving ceremony this afternoon was Lanan Bascome.
Gerald Simons, President of the Argus Group, says: "This ceremony brings to a close another eventful Argus Open competition. Our congratulations go to all of the winners of each of the seven categories and we thank everyone who made the event such a success by playing, spectating or helping to organise the tournament."
Argus Open 2011 results
Men's Open Singles Gavin Manders vs. Jenson Bascome [6-4, 6-3]
Ladies' Open Singles Cayla Cross vs. Catherine Cooke [6-3, 3-6, 7-5]
Men's Senior Singles Erwin Leader vs. Christopher Bardgett [6-1, 6-2]
Men's Open Doubles Jenson Bascome/Gavin Manders vs. Alex Cooper/Jack Keyes [6-4, 6-3]
Ladies' Open Doubles Tara Lambert/Jacklyn Lambert vs. Catherine Cooke/Ciara Svenson [6-0, 6-1]
Mixed Open Doubles Tara Lambert/Jenson Bascome vs. Gavin Manders/Jacklyn Lambert [6-2, 7-6]
Ladies Senior Doubles Gill Butterfield/Sarah Cook vs. Elin Daniels/Cheryl Green [6-0, 6-2]
Click to enlarge photos:
Read More About