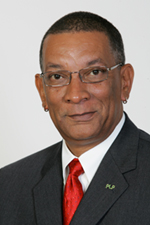 [Opinion piece written by Lt. Col. David Burch] The enduring nature of the holiday we call Emancipation Day is proof of just how important an event it really was. In a very British fashion no war accompanied the freedom of the slaves in the Colonies. In some cases it took months for news of the Proclamation granting slaves their freedom to reach the colonial outposts of the British Empire.
In Bermuda, our cultural legacy is on full display over the period we know and celebrate as Cup Match. It's that time of year now and already colours are being worn with pride and in the streets, rivalry between the red and blue and the blue and blue is alive and well. This is as it should be; this is who we are; this is what we should encourage.
For me, Bermuda Day and Emancipation Day go hand in hand. Both put the best of our Island home on display. In one sense we parade (literally) our varying origins and cultures. With the other we focus on sportsmanship, reflect on unity and give way to our natural desire to just have a good time with each other.
Question time though:
Have we perfected the ideal of emancipation in this the second century since it was granted?
Can we mature the meaning of the celebration to match our country's obvious sophistication?
How do we connect the generations of today with the importance of ultimate self-determination?
Just when you thought this was a harmless piece about Cup Match, true to my political bent, I spring it on you. Even from the sidelines I cannot disappoint. Having posed the questions, the least I can do is answer them…..or suggest some answers to spur some debate.
Have we perfected the ideal of emancipation in the second century since it was granted? The short answer is no, we haven't. It's not for lack of trying though. The history books record the stages through which we have grown: emancipation, white men only voting, the property vote, women's right to vote, universal adult suffrage and the 1968 Constitution, and finally, one man one vote, each vote of equal value.
To be fair, we've done a lot. But it's that final step that somehow evades us. You know it, it's the big "I" word. Every British politician I've met always says the same thing in private "the 1968 Constitution really was the stepping stone to Independence…and we thought you'd do it within five years". Publicly of course their stance is much different. Most recently it's the classic "when the people of Bermuda are ready they'll tell us…"
They're right – of course. It is for us to tell them. This is not a British problem. The days of Great Britain hanging on to colonies and seeking to rule from afar have really passed. It's no secret that they have other things to do…quite a lot lately too. It is our responsibility now to act grown and to accept the gentle push out of the nest that really began with emancipation and culminated in the 2001 amendments to the Constitution. The poor Brits have done everything except say go, which of course wouldn't be very British at all. We just need to take the hint.
Can we mature the meaning of the celebration to match our country's obvious sophistication? Of course we can. Think of all the things we do at Cup Match. Whatever it is, it's usually no holds barred. We either party hard or relax hard; nothing in between. We travel, we do things that we wouldn't ordinarily do because we're celebrating freedom. None of us remember or know anyone who remembers slavery or emancipation but the ideal that we celebrate freedom and act free endures over those two days (well four if you're like me).
It doesn't matter to me when we set our Independence Day. It can be a rainy January day, a hot July day or even a pleasant April day. All are good for me. But I truly believe that Emancipation Day celebrations will be that much more meaningful when our constitutional status mirrors our affluence and development.
How do we connect the generations of today with the importance of ultimate self determination? Difficult one. Really difficult one. Painting the picture of freedom from the oppressor just will not cut it with young people today. It just isn't their experience with Britain. It was ours. Today they are welcomed without visas, we can get UK passports, and we can even get on the UK's version of welfare I hear. So, the evil dragon of yesteryear is our dragon, not theirs.
For this generation, the argument has to be rational, factual and just make sense. Thankfully, I think the argument does all of that and more. I almost choked on my chardonnay when Gordon Brown threw us under the bus in the US Congress….that was just not cricket. I well remember candidate Obama started out calling our name in his stump speeches. I thought then and I think now, we could do a much better job looking out for ourselves than our "friends" are doing because as their economies get tighter, the winds of friendship seem to change. We do a pretty good job selling ourselves and making rain in the business sector. People like doing business here and as long as we keep them liking it – we'll do fine. We alone are responsible for that.
In my former role, I've been to meetings of the remaining colonies. We have a lot in common with them beyond our ties to Britain. But it's clear that we have matured at a different pace to our sister Islands and dependencies. There's sometimes a feeling of the married brother with children being ordered to dinner at his mother's table with his younger siblings who still live at home. There's still love and affection between them but you've moved on…..you've grown….you have other responsibilities and your place is not at the table you grew up at but at your own table dealing with your own issues and certainly not inviting your mother to get into it with you. It's called maturity.
1,000 words in – so it's time to close now. I know we're ready for independence because we have 50 years of lessons-learned under our belt. We just need to be students of history on this one and we'll get it right. Someone will no doubt throw Jamaica's recent poll in my face to respond to this. Yes, they did this poll and 50% (or more) said they wished they'd stayed under the British. Personally, I'm not sure which Jamaicans they asked because that's not my experience with that country or any Jamaicans I've ever met. That said however, after 50 years of independence (2012 celebrations loom) the likelihood is that many of those polled wouldn't remember the dragon slaying that led to the new Jamaica. Many of those polled might view Bustamante, Manley and Nanny as distant folk whose struggles, while admirable, are not putting food on the table today. That's fair. There the comparisons stop though. We are not Jamaica and we are not where Jamaica was 50 years ago; we're not where Jamaica is now.
We are Bermuda and rather than be defensive and insular we can and should take our place in the family of nations. We can do it. We do it now. We're "entrusted" to do virtually everything and where we're not, we must politely inform Langton Hill and usually we're good. Entrepreneurs always take out the middle man. We can do it too.
Now I'm really finished. Happy Emancipation. Go Somerset.
Read More About