[Updated] Somerset Cricket Club has selected their team for this year's Cup Match Classic. Both Somerset and St George's held their Final Trial Matches today, and met at their respective club houses this evening [July 23] to decide on their teams. St George's have called in their members are we are expecting them to announce their team in a short while.
The 2011 Somerset Cup Match Team include Jekon Edness [Captain], Stephen Outerbridge [Vice Captain], Dion Stovell, Terryn Fray, Janeiro Tucker, Deunte Darrell, Malachi Jones, Joshua Gilbert, Kamau Leverock, Kevin Hurdle and Jacobi Robinson.
Reserves will be Kamal Easton, Shaquille Jones, and Tre Manders. Terryn Fray and Kamau Leverock are colts, while Kevin Hurdle and Dion Stovell have been recalled.
Update 11:47pm: The 2011 St. George Cup Match Team is Oronde Bascome [Captain], Rodney Trott [Vice Captain], Jason Anderson, OJ Pitcher, Lionel Cann, Delyone Borden, Stefan Kelly, Damali Bell, Fiqre Crockwell, Justin Pitcher and Allan Douglas Jr. Reserves are Onias Bascome, Lateef Trott and Shea Pitcher.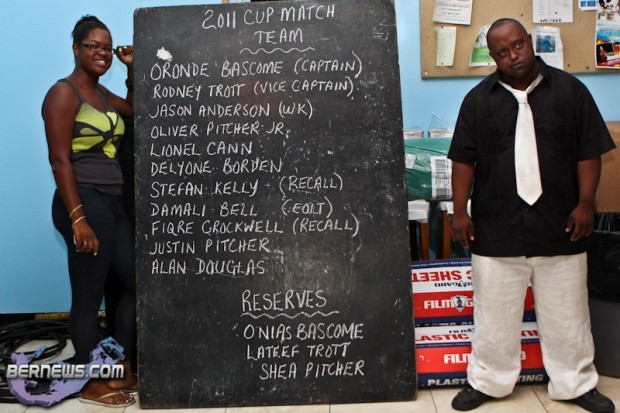 Neil Paynter, President of St George's Cricket Club, said last night he is announcing the "team that will not only retain the Cup, but win it." Mr Paynter said the team is a well balanced team, with both all rounders and specialist bowlers.
Calling Lionel Cann the "elder statesman" of the team, he said the veteran brings the seniority to the team, and that Captain Oronde Bascome will be well supported by Vice Captain Rodney Trott – with the two not only being good friends, but having played cricket together since they were children.
To finish off our interview, Mr Paynter sent a clear message to Somerset, holding up the trophy and asking them to "come and get it":
Read More About