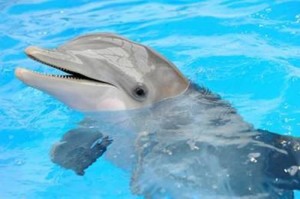 On Monday [Sept.12], Nea – a four-year-old dolphin born in Bermuda – died after colliding with another dolphin at a Chicago Zoo.
Fox Chicago reports that, "No one saw what happened, but her trainers heard a loud pop and jumped into the water. They found Nea unresponsive and attempted CPR. Veterinary staff arrived within 10 minutes to assist, but they were not able revive the dolphin."
"Preliminary results of an animal autopsy performed later Monday indicated a fractured skull. Zoo experts believe that Nea received her fatal injuries from colliding with another dolphin rather than a hard fixed object, which would have caused scrapes or bruises."
A statement from Brookfield Zoo said, "We are mourning the tragic loss of Nea, a 4-year-old female bottlenose dolphin at Brookfield Zoo. Nea died suddenly just before the 1 p.m. dolphin show on Monday, Sept. 5."
"Thanks to everybody who posted their thoughts about Nea and well wishes for dolphin training staff. Zoo staff, especially those who worked with our marine mammals, are devastated by the loss and we will pass along your condolences."
"On Monday, marine mammal staff responded immediately on hearing a loud pop, and when they noticed that she appeared injured, trainers jumped into the water and made heroic attempts to save Nea by performing CPR. Veterinary staff arrived in less than 10 minutes to assist, but Nea remained unresponsive."
"Although no one witnessed this freak incident, based on the preliminary findings, it is believed that Nea sustained her fatal injuries from an accidental collision with another dolphin. Zoo pathologists performed an animal autopsy to determine the cause of death and preliminary results indicate a fractured skull."
Nea was born at Dolphinquest in Bermuda and taken to the Brookfield Zoo at age 3. The dolphin's death has sparked debate about keeping dolphins in captivity.
Read More About
Category: All, Environment