[Updated - Police confirm 18-yr-old was killed, and they are treating it as a murder investigation]
Bernews unofficially understands the Police have launched an investigation this afternoon [Oct.28] after an incident  in the Warwick area. The Police are presently on scene in the Bulkhead Drive area, by Khyber Pass.
Details are limited at this time, however the incident is unofficially said to be involve a young man who was stabbed. We are expecting an official statement shortly, and will update as able.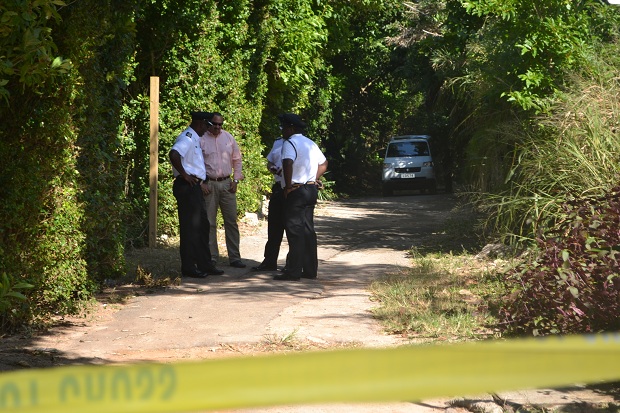 Update #1: Police confirm that a young man was found injured in the area after being assaulted, and was taken to hospital where he died of his injuries. Police said they are treating it as a murder investigation. They confirmed they "do not believe he was shot", but would not specifically confirm how he died.  Police said they are not releasing further details at this time, but "believe he was 18-years-old."
Update #2: Video of police statement:
Update #3: A statement from Assistant Commissioner of Police David Mirfield is below:
Around 12:40pm on Friday, police and paramedics responded to a reported assault in the Railway Trail, Bulkhead Drive, Warwick area. When officers and EMTs arrived at the scene, they found a young man who had been seriously injured.

The victim, believed to be an 18 year old man, was taken to King Edward VII Memorial Hospital via ambulance but subsequently succumbed to his injuries.

As a result, this is now being treated as a murder investigation. It is not clear at this time how the young man died; however we do not believe he was shot.

A full police investigation is now underway and the scene is being forensically examined. It is unclear at this stage how many people may have been involved in this incident.

We are appealing for anyone who may have been in the Railway Trail, Bulkhead Drive, area around 12:40pm Friday, October 28th and who may have seen any suspicious activity or young men running away from the scene to contact the Serious Crime Unit on 295-0011 or the independent and confidential Crime Stoppers hotline on 800-8477.

You will also be aware that the Police Mobile Command vehicle is parked nearby at the junction of Khyber Pass and Middle Road in Warwick. That will also be manned and anyone with any information which may assist our inquiries can attend that location.

The Bermuda Police Service expresses sincere condolences to the family and friends of the victim. No further information will be given at this time as the process of informing the next of kin is underway.
Read More About