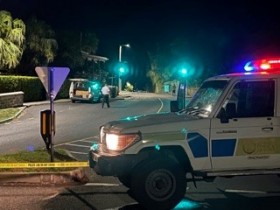 [Updated: Police have now confirmed the death of Duane Gibbons, 57, who was fatally stabbed early this morning.]
The police have confirmed the death of a male who was found in an unresponsive state in the Blue Hole Hill area, and said they have commenced an investigation.
A police spokesperson said, "At 2:20 a.m. today, Thursday 16th September, 2021, police received a 911 call reporting an unresponsive male lying in the eastbound lane of Blue Hole Hill, just east of the Swizzle Inn Restaurant, Hamilton Parish.
"Officers attended the scene and immediately commenced CPR on the male prior to the arrival of EMS personnel.
"The unidentified male was eventually transported via ambulance to the King Edward the VII Memorial Hospital, where he was pronounced dead a short time later.
"Police have commenced an investigation into this incident and anyone with information is asked to call 211 or the main police number 295-0011
"The east and west end of Blue Hole Hill were temporarily blocked off while the scene was forensically processed.
"The roadway has now been opened to one-way traffic into and out of St. George using the westbound lane.
"Uniformed officers remain at the scene and motorists are advised to use caution when approaching the area."
Update 1.15pm: Speaking at a press conference, the police said that Duane Gibbons, 57, suffered a stab wound, and noted this marks the third murder of the year.
"The Bermuda Police Service is aware that prior to the 911 call being received, there were several members of our community who were traveling along North Shore Road heading in both east and westerly directions that might have seen Mr. Gibbons.
"In particular, you might have seen Mr. Gibbons standing or leaning over the wall which is just behind me, and we believe he was there for some minutes before he collapsed and unfortunately was unresponsive," the police said.
Read More About