Dr David Wingate has warned that the cliffs underneath the new condos being built on South Shore are eroding. The conservationist said it is a vulnerable cliff that is diminishing at the rate of 1 – 2 metres every decade, and that one single category 5 hurricane could cause the cliff to erode all the way back as far as the condos.
The Grand Atlantic Development on South Road in Warwick will comprise of 60 two bedroom/one bathroom homes and 18 three bedroom/two bathroom homes. Prices range from $495,000 for a 2 bedroom home up to $670,000 for an ocean view 3 bedroom unit.
While on a visit to the site, Dr David Wingate said, "I am standing at the base of a 60ft cliff at the Grand Atlantic Site in Warwick. And the rock formation here is the youngest of Bermuda's sandstones laid down by wind as the sea level fell rapidly at the end of the last ice age about 80,000 years ago."
"This dune was built at that time, and in 80,000 years has not been enough time for the sand to consolidate, so that it is still very soft and crumbly equivalent to the SAL Quarry in Southampton."
Dr Wingate continued on to say, "The wave action at high tide can either wash in here and undercut this, so that this is one of the most vulnerable, and most rapidly eroding cliffs in all of Bermuda."
"It's made worse during hurricane events, because in hurricanes the sea level rises, it is called the storm surge. And sea level rise, for instance in Fabian was 6 – 8 feet along the South Shore."
20 minute video with Dr Wingate showing the specific areas:
Dr Wingate stood by a wall [screenshot below] and said "This wall is about 3 foot in depth, and I guess it is probably about 8 feet high from down bedrock level, which is about high tide level."
"At this height, a typical category 3 hurricane, the storm surge would put the water level right at the top of this wall, and then you would have your waves coming in on top of that – slamming up the cliff.
"So it's pretty obvious what will happen here when you get the big event. And that is, that the water will surge over this concrete and the erosion tends to be worse when you have a hard structure against soft rock, as you get terrible turbulence…"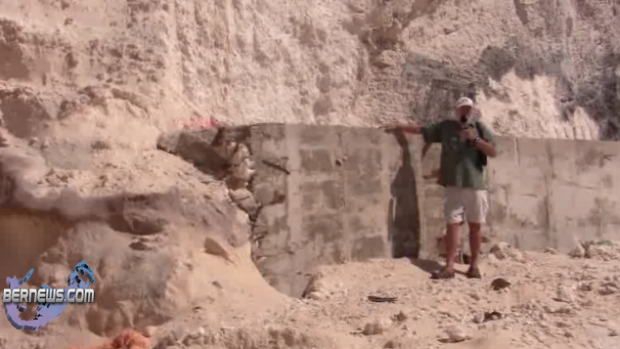 Dr Wingate said, "If you see all the casuarinas that are rooted on the cliff [screenshot below], they have been one of the major causes of erosion because their roots will grow down through fractures and then expose the rock."
"So you are getting cliff slumping at intervals which is carrying on a rate that appears to average about a metre or two every decade. That is fast in geological terms."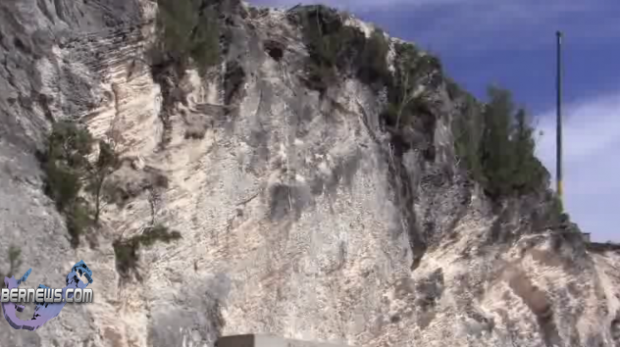 "At the top of the cliff you can see the nearest condos [screenshot below] which have a 50 ft setback from the edge of the cliff. The issue is how long it will be till before this cliff erodes back to them?" asked Dr Wingate.
"That is something that cannot be said with any degree of accuracy, because the events that would cause massive erosion are of rare occurrence and totally unpredictable. We never know when a hurricane will hit Bermuda or miss it. If Ophelia had hit Bermuda, I can assure you we probably would have lost another 3 metres of this cliff face."
Dr Wingate continued on to say that, "It all depends what we get. If we got a category 5 hurricane, it's possible the cliff could erode back as far as the condos in one event."
"But that event of course might not happen for – I don't know how often we get a category 5 here in Bermuda – maybe once every 200 years, so that's why its impossible to state categorically."
"What we can say is there is good evidence the cliff is eroding back at the rate of 1 -2 metres every decade. That has certainly been borne out by observations that myself and others have made here since the 1980s."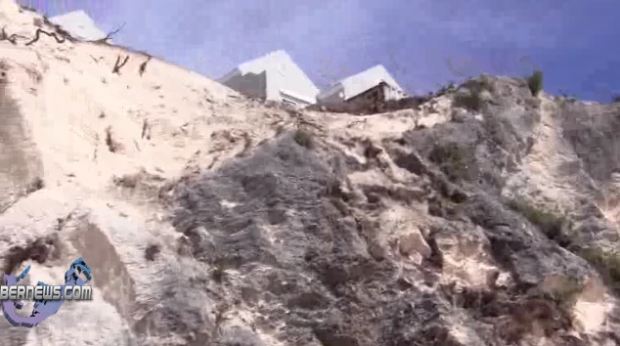 "I'm not an engineer, I want to make that clear," said Dr Wingate. "I base my conclusions on common sense, and 60 years of observation of nature in Bermuda, and observation of what has happened to sea walls that have been built to this sort of level of engineering at various parts along the South Shore, none of which survived Fabian. None."
The Ministry of the Environment has not responded yet to our request for comment yesterday, we will update as able with their response.
Update Oct 12: The Ministry of the Environment has declined to comment on Dr Wingate's observations, and referred us to developer Gilbert Lopes.
Read More About
Category: All, Environment, News, Videos