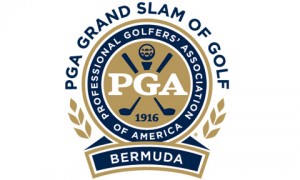 A limited number of tickets will be available for the 29th PGA Grand Slam of Golf, Oct. 17-19, in Bermuda at the Port Royal Golf Course.
The "Buy One Get One Free" (BOGO) ticket purchase will receive an equal number of same type tickets free. (Purchase one Monday ticket, receive one free Monday ticket; purchase two weekly tickets and receive two weekly tickets free.)
These tickets may only be purchased on Thursday, Oct. 13, from 11 a.m. to 3 p.m. at the Washington Mall in downtown Hamilton. All previous ticket buyers will be provided the same benefit but need to come to Port Royal Golf Course between Oct. 13 and 16 to pick them up. Tickets may also be picked up at the Main Entrance Gate on the day of event.
"The PGA of America is pleased to offer this last minute exclusive value opportunity for golf fans who have not yet purchased tickets to this year's PGA Grand Slam of Golf," said David Charles, Senior Director of Championships for The PGA of America. "The BOGO gives golf enthusiasts a chance to see golf's best players compete for the title of "Champions of Champions".
Season tickets (one ticket per day) for Monday, Tuesday and Wednesday are available for $50. Daily tickets for individual day attendance are $20 on Monday for the Champions Clinic and Pro-Am and $20 each day for the Tuesday and Wednesday competition days.
In an effort to encourage more youth to become involved in the game of golf, the PGA Grand Slam of Golf is offering FREE Tickets to children 17 years and younger when accompanied by a ticket-bearing adult.
An all-rookie field – Masters Champion Charl Schwartzel of South Africa, U.S. Open Champion Rory McIlroy and Open Champion Darren Clarke, both from Northern Ireland, and from the United States, PGA Champion Keegan Bradley, will form the elite foursome in this year's PGA Grand Slam of Golf.
Tickets for the 29th PGA Grand Slam of Golf may be purchased in Bermuda at the Port Royal Golf Shop or via telephone by dialing 1-800-PGA-GOLF (800-742-4653), or 561-624-7601, or by visiting www.pgagrandslamofgolf.com.
The PGA Grand Slam of Golf, the season-ending showcase event that boasts the most difficult qualification requirement in the game – a major championship – will be televised by TNT to a worldwide audience.
The PGA Grand Slam of Golf
Established in 1979, the PGA Grand Slam of Golf has grown from an 18-hole, single-day charity event to a 36-hole annual showdown that matches professional golf's best against each other for a $1.35 million purse. TNT will televise the PGA Grand Slam of Golf to 88 million U.S. households, and it is seen in more than 100 countries.
PGA Grand Slam of Golf champions include Tiger Woods, Phil Mickelson, Jim Furyk, Ernie Els, Tom Lehman, Ben Crenshaw, Greg Norman, Nick Price, Ian Woosnam and Angel Cabrera.
The 29th PGA Grand Slam of Golf will be hosted by the Bermuda Department of Tourism, Port Royal Golf Club and the Fairmont Southampton.
Read More About