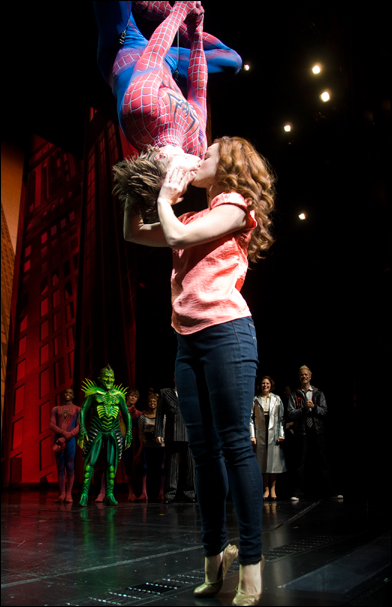 In a case of life imitating art, Bermuda's Rebecca Faulkenberry made her Broadway debut earlier this year as small-town girl Sherrie who arrives in Hollywood in search of stardom in "Rock Of Ages".
Now the young  Bermudian actress is  living out her own dreams of stardom by swinging into another Broadway blockbuster as the title character's girlfriend Mary Jane Watson in "Spider-Man, Turn Off the Dark",  one of the hottest shows in New York.
Playing at New York's Foxwoods Theatre, the musical is inspired by over 40 years of the Marvel Comics character co-created by writer/editor Stan Lee and artist Steve Ditko. "Spider-Man: Turn Off The Dark" follows the story of teenager Peter Parker, whose unremarkable life is turned upside-down when he's bitten by a genetically altered spider and must learn that with great powers comes great responsibility.
"Both my Broadway roles, Sherrie in 'Rock of Ages' and Mary Jane, are trying to be actresses," Ms Faulkenberry told Broadway.com. "MJ's a little more successful than Sherrie because she doesn't have to become a stripper!
"I was very driven [at the Bermuda High School] and knew what I wanted to do. I wouldn't say I was the popular girl by any means. I had very beautiful, popular friends, but I was not one of them [laughs]."
The "Spider-Man" production — the most expensive ever mounted on Broadway — features original direction by "The Lion King's" Julie Taymor, music and lyrics by Bono and The Edge from U2 and a book co-written by Ms Taymor, Glen Berger, and Roberto Aguirre-Sacasa.
Earlier this year Ms Faulkenberry appeared on "Dancing With The Stars"  along with fellow "Rock Of Ages" cast members and last year she was featured on "The Tonight Show" with Jay Leno when the musical's cross-country tour was commencing. In "Spider-Man: Turn Off The Dark", she has joined a principal cast which also includes Reeve Carney and Patrick Page, who continue on in their roles as Peter Parker/Spider-Man and Norman Osborn/Green Goblin, respectively.
The Bermudian actress — a veteran of many Bermuda Musical & Dramatic Society and Bermuda Gilbert & Sullivan Society productions when she was growing up — recently chatted with Broadway.com about joining "Spider-Man", her newfound comic book knowledge and how she energises herself each night before a show.
This has been quite a year for you. Just a few months ago you were a fresh face on Broadway and now you're a "Spider-Man" headliner!
I know! I moved to the States last year from London and came over here without a manager or agent. I did a show for a month, which let me become [a member of Actors' Equity]. I didn't even know what that meant.
I literally walked into the Equity building and was like, "So, do I just come here and audition?" I had worked in London, so it wasn't like I didn't have any credits, but still I came and started with a job in a coffee shop and all that.

Mary Jane is such an iconic character. What's your view of her?
She is "the girl next door," but I don't think that needs to be confused with submissive, sweet and quiet. She's certainly not that, especially in the first act when she's sort of the driving force for Peter and is the more dominant one. She's trying to take care of him until things spin off and he becomes Spider-Man and the roles kind of change. She's feisty and caring. I love playing her.

Did you watch the Spider-Man movies or read any of the comics before joining the show?
When I was auditioning I went over to a comic book store with one of our dressers from "Rock of Ages", who's really into comics. It's a whole other language that I don't speak! He was like, "Well, there are different universes and that's how they keep the characters alive." I was just like, "What? I don't get what you're saying! I just want pictures and references!" [Laughs].
I think when you're doing something as iconic as "Spider-Man", it's sort of offensive to fans if you do something completely off the wall that hasn't been done before. You have a responsibility to all the people who love the comic to be a bit knowledgeable about it.
You are among the show's first lead replacements since "Spider-Man" opened. Did you have any hesitations about joining this production?
Not at all. Right from the get-go everyone was so kind and welcoming. I'm not afraid of heights, so I went in and was like, "Yeah! Let's fly!" You're in this harness that is like the most ridiculous chastity belt ever made.
It goes around your shoulders and over your legs and it's got all these buckles. There's no way that you're coming out of that thing, so you feel so secure. You get hooked up by one person, then there's a stage manager to double check it, then when you get up to the top they check it again. You don't go up any ladder without a safety harness on before even putting on your actual harness. There's so much safety and regulation to it! I was not worried at all.
You must have also been excited to get to work with handsome leading man Reeve Carney.
It's not a terrible job [laughs]. Matthew James Thomas, who's the alternate, and Reeve are both very good looking boys, so it's not too difficult. They've been really open to what I bring to the role. When you're opposite someone, it's a joint effort to create the relationship, so it's great when they're willing to be open. I've heard that we look good together … or at least that we're acting like we're in love!
Ms Faulkenberry Takes A Curtain Call With The "Spider-Man" Cast On November 10, Her Opening Night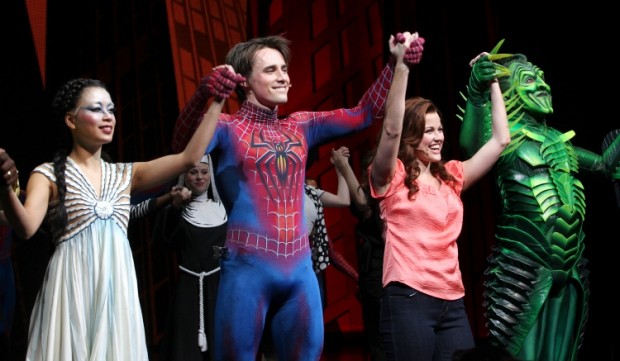 Does Patrick Page freak you out when he's dressed up as the Green Goblin?
He is so wonderful. His charisma and presence on stage are incredible. Talk about things that can't be taught—whatever he has is just so engaging. He also has a Christmas tree pine candle in his room, as do I, so the entire hallway smells of Christmas because of us.
Was it a fairly easy transition to go from singing '80s music in "Rock of Ages" to the music of U2′s Bono and the Edge? Even though they're both rock, it's a completely different style.
I was really doing a lot of high belting for "Rock of Ages". Eighties music is obtuse and over the top, you're really just screaming. There's not a lot of down time for your voice to settle in and tell the story because it's all about the music. In "Spider-Man", I have some really beautiful, intimate songs. In all my songs, I'm sort of right on top Reeve's face, so I can just look at him and sing what I have to say. It's not such an intense level the whole time vocally. I can relax a little, which is nice.

The size difference of the two productions must have been a big change for you.
Oddly enough, I feel so much more in my own world and in the character in this bigger theatre, which I didn't expect. I thought I would be a bit intimidated by the 1,000 extra seats. "Rock of Ages" welcomes audience participation and signing along; it's so interactive that I almost got more nervous doing that show. In "Spider-Man" I'm in my own world and it's really nice because I can relax and just focus on what I'm doing.
The show is very high-energy, though. How do you prepare yourself every night?
I'm all about music in my dressing room. I have my music and then I have my character's music, which I use as a way into her head. Whenever I need to be energised I put on some Motown or Michael Jackson. On weekends we always have pre-matinee reggae because I grew up in Bermuda. For Mary Jane, I've gone back to everything I listened to in high school, like TLC and Destiny's Child, to get into that mindset. It's cheesy, but it totally puts me in the brain that I need to be in.
Are there similarities between Mary Jane and you when you were 17?
Both my Broadway roles, Sherrie in "Rock of Ages" and Mary Jane, are trying to be actresses. MJ's a little more successful than Sherrie because she doesn't have to become a stripper! I was very driven [in high school] and knew what I wanted to do. I wouldn't say I was the popular girl by any means. I had very beautiful, popular friends, but I was not one of them [laughs].
Read More About
Category: All, Entertainment