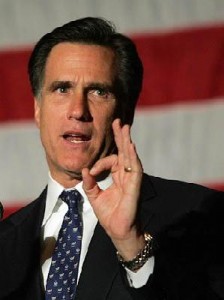 Some investments listed in Mitt and Ann Romney's 2010 tax returns — including the Bermuda-based Sankaty High Yield Asset Investors Ltd. and other funds located overseas — were not explicitly disclosed in the personal financial statement the Republican presidential hopeful filed in August as part of his White House bid.
The "Los Angeles Time" reports today [Jan. 27] the Romney campaign has described the discrepancies as "trivial" but acknowledged that it was reviewing how the investments were reported and would make "some minor technical amendments" to Romney's financial disclosure that would not alter the overall picture.
An examination by the "Los Angeles Times" found that at least 23 investments detailed in the couple's 2010 tax returns did not show up or were not listed in the same fashion on Romney's most recent financial disclosure, including 11 based in low-tax jurisdictions countries such as Bermuda, the Cayman Islands and Luxembourg.
The campaign has emphasised the former Massachusetts Governorpaid all required US taxes on his foreign funds.
Many of the funds that show up on Mr. Romney's tax returns but not his financial disclosure are affiliated with Bain Capital, the Boston-based private equity firm he ran for 15 years.
"The Romney campaign dismissed the omission of information as inadvertent and inconsequential, noting he has released more than 600 pages of details about his finances," said the newspaper. "Indeed, among the hundreds of investments listed on his recent financial disclosure are many foreign funds.
"But the discrepancies speak to a broader challenge facing Romney: convincing voters that he can relate to their economic distress despite his immense fortune … The extent of Romney's holdings and indications that he may not have reported them all correctly could reinforce his image as elite and out of touch."
Read More About