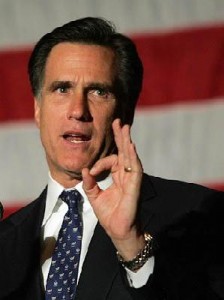 While his GOP rivals largely held fire on Mitt Romney's use of Bermuda shell companies during campaigning for today's [Jan.3] first-in-the-nation Republican Presidential caucuses in Iowa, they might not be so forbearing as the American primary season gathers momentum.
Mr. Romney [pictured], a former Massachusetts Governor, legally used funds in Bermuda and Cayman to help clients avoid paying US taxes when he headed a major Boston asset management company in the '80s and '90s.
His use of off-shore financial centres during his corporate career was first revealed during his unsuccessful 2008 Presidential run. But the "Los Angeles Times" provided additional details last month, saying while the presumptive GOP front-runner did not directly benefit from the use of the off-shore funds "aides to the Republican Presidential hopeful and former colleagues acknowledged that the tax-friendly jurisdictions helped attract billions of additional investment dollars to Romney's former company, Bain Capital, and thus boosted profits for Romney and his partners."
Boston-based Bain Capital is now one of the world's leading private, alternative asset management firms whose affiliates manage approximately $66 billion.
Mr. Romney has based his 2012 White House bid, in part, on the executive skills he learned as co-founder and chief executive of Bain Capital.
While his presidential campaign promotes his record of closing state tax loopholes as Massachusetts' Governor, his involvement with what the "Los Angeles Times" called "foreign tax havens" is seen as a potential Achilles' heel for the Romney campaign.
Given America's recession-ravaged economy and stubborn unemployment rate, in recent months there has been growing criticism in Washington by Democrats and Republicans alike of off-shore financial centres and the so-called "Bermuda loophole" for re/insurers in the US tax code.
Mr. Romney and Republican maverick Ron Paul topped a flurry of last-minute polls as Iowans began voting today.
Despite its relatively small number of voters, the Iowa caucuses can have a disproportionately large influence on the shape of American presidential politics — Illinois Senator Barack Obama went into the state as a dark horse in the 2004 campaign cycle and emerged as the Democratic front-runner after trouncing Hilary Clinton.
Former House of Representatives Speaker Newt Gingrich and Congresswoman Michele Bachmann both alluded to the Bermuda and Cayman funds while on the hustings in Iowa.
But none of Mr. Romney's 2012 rivals in the crowded GOP pack ran a single ad in Iowa taking him to task for either his off-shore corporate ties or his record of flip-flopping on major issues — a sign they perhaps underestimated his strength in the state.
However, there are three other primaries in January. And if Mr. Romney gains momentum with a first or second-place showing in Iowa, American political pundits are predicting Bermuda could become a campaign issue before the end of the month in primary elections in New Hampshire, South Carolina and Florida.
The Democratic National Committe is already taking swipes at Mr. Romney over his personal finances, pointing out he is the first GOP candidate in 40 years to refuse to make his personal income tax records public.
Democratic National Committee TV Ad "What Is Mitt Romney Hiding?"
And earlier this year British author Nicholas Shaxson — author of the global bestseller "Treasure Islands: Tax Havens And the Men Who Stole the World"" — discussed Mitt Romney's history of profiting from off-shore financial centres including Bermuda during a US TV appearance.
The show also featured footage of "Los Angeles Times" reporter Bob Drogin addressing the same subject at the time Mr. Romney's use of Bermuda for tax avoidance was first exposed in 2008.
" … Bain Capital, which today has assets of about $60 billion — that's their — the number that they officially say — and about a third of that comes from these offshore operations that Romney set up when he was still there, in particular, companies that are set up — really, they're just mail drops, they're mailboxes; they don't have any staff, they don't have any operations," said Mr. Drogin. "The one on Grand Cayman Island is a Post Office Box 60D, I think, on Grand Cayman Island, and the ones in Bermuda are also at a lawyer's office. But they've got them in other places as well. And they bring in somewhere above $25 billion a year.
"… They are [equity groups] set up overseas so that foreign investors in these private companies can avoid paying US taxes. Mitt Romney and his colleagues don't get that advantage. So it's not like they're avoiding taxes through this. It's simply — what happens is, they're helping other people avoid paying US taxes, and as a result they make enormous profits."
Mr. Shaxson said while Mr. Romney's tax avoidance was not illegal, he was "by definition, getting around the spirit of the law; this is not what legislators intended when they set up the legislation …
"And it's a terrible — this corruption of the culture is one of the biggest problems of the [whole] issue."
Nicholas Shaxson & Bob Drogin Discuss Mitt Romney's Bermuda Ties
Read More About