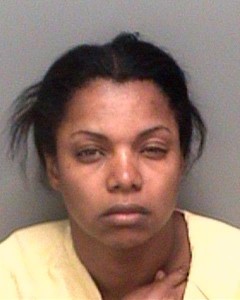 A 14-year-old Bermudian child allegedly abducted by his mother in 2003 was found in Florida yesterday [Feb.2], according to US media and police reports.
The child's mother – 40-year-old Bermudian Kim Sakena Swan [pictured]  – was arrested and charged with interference with child custody.
The child is expected to be reunited with his father — Bermudian Giovanni Burrows who lives in Bermuda, and works as a ferry pilot for Marine & Ports.
Bermuda's legal system had placed the child in the care and custody of Mr. Burrows in 2002.
In January 2003 — when he was five years old — his mother took him to the United States and Mr. Burrows was unable to find him for many years, despite a relentless effort to find his son.
The child has been listed as missing by Interpol for a number of years, and was also listed by the US National Center for Missing & Exploited Children [NCMEC].
After many years of searching for his son, Mr. Burrows was overjoyed to be reunited with his son in Florida last year, however while in court his mother is alleged to have abducted him again.
Mr Burrows was scheduled to get custody of the child at a hearing at the Pinellas County Courthouse in Florida. At the courthouse, the boy said he had to go to the bathroom and that's when he secretly met his mother and the two took off.
Ms Swan remained on 'the run' with the child, until being caught by American law enforcement earlier this week. She has a second child, a daughter. This second child is believed to about eight or nine years old and believed to be fathered by an American.
Both children are said to be in the care of the American child protective services, and Ms Swan remains in a Jacksonville jail on $29,000 bond. She was also accused of petty theft, and a screenshot from the Jacksonville jail website showing the charges she was arrested on yesterday can be seen here.
Mr. Burrows is expected to head to Florida today or tomorrow to be reunited with his son, and start the process of bringing him home to Bermuda.
He has already expended his savings over the years searching for his son, and is facing mounting legal bills.  If anyone cares to make a small donation to assist with his expenses please feel free to make a transfer to HSBC account 010-465235-012.
Read More About