[Updated - Mr Smith seen canvassing in C#14 Devonshire North West] Deputy Mayor of Hamilton Glen Smith has resigned from the Council of the City of Hamilton, and will stand as a candidate for the One Bermuda Alliance in the next General Election.
Mayor of Hamilton Charles Gosling said, "Deputy Mayor Alderman Glen Smith, J.P. met with me on February 2, in the Mayor's Parlour at City Hall and presented his letter of resignation with effect immediately. I reluctantly accepted his letter."
Mayor Gosling added, "Mr. Smith has been selected as a candidate for the One Bermuda Alliance in the upcoming general election. Glen shares the view of the entire Council that municipal politics must remain apolitical.
"To ensure the City of Hamilton is seen in this light, individually, we may support a particular party but none of us will publically campaign on the behalf of, or run for, that party; a practice we would like to continue. Which is why, prior to any official announcement, Glen has taken this particular stance."
Update: Mr Smith was seen out canvassing in Constituency #14 Devonshire North West, and has been leaving brochures like the one below with area residents.
The PLP has not made a formal announcement of who run in Devonshire North West, however the seat is presently held by Premier Paula Cox who won 69.59% of the vote vs the UBP's Alan Marshall [492-215] in 2007.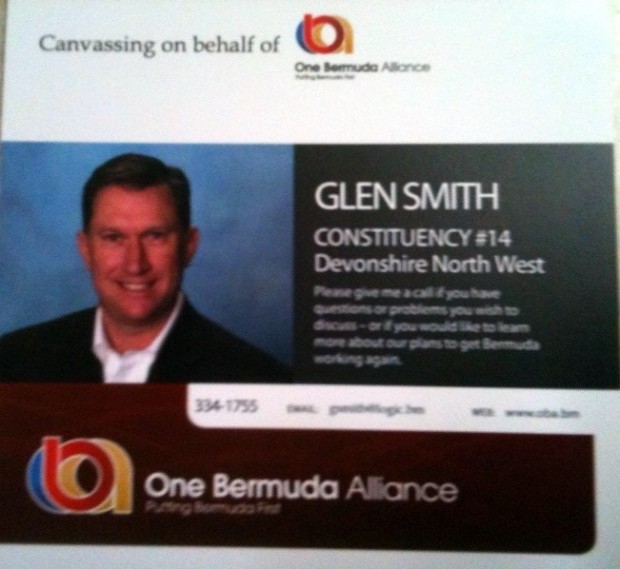 Read More About