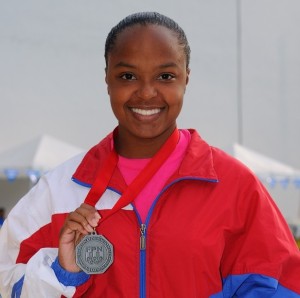 Bermudian Ashley Yearwood and her Baylor School 4x200m Freestyle Relay teammates broke their State and National Independent High School record from last year by 1 ½ seconds.
Yearwood's record setting swim is the third record to be broken by local athletes this weekend, following after Tyrone Smith's record breaking leap in Estonia, and Aaron Evans topping his own school record in the 800-meter run in Seattle.
Yearwood and her teammates lowered it to 1:31.18 from last year's effort of 1:32.63.
All four girls swam at last year's FINA Junior World Championships in Peru. Kimberlee John-Williams represented Trinidad and Tobago, Bria Deveaux the Bahamas and Kristen Vredeveld the U.S. whilst Yearwood was there for Bermuda.
Yearwood swam the third leg of the Women's 200 Yard Medley Relay that saw Baylor record the fastest Preliminaries qualifying time of 1:45.20. Yearwood and her teammates then lowered their time in the event while winning the A Final clocking 1:43.92.
Yearwood recorded the third fastest qualifying time of 24.36 during the Women's 50 Yard Freestyle preliminaries during the A Final Yearwood lowered her time but still finished third clocking 24.12.
Yearwood swam the second leg during the Women's 200 Yard Freestyle Relay preliminaries for Baylor as they recorded the fastest time of 1:36.46.
Yearwood then swam the final leg of the Baylor Women's 400 Yard Freestyle Relay team that finished 3rd in the preliminaries clocking 3:34.87. In the final the group lowered their time by 12 seconds clocking 3:22.99 to take the title
Read More About