The voyage of the yacht "Carefree IV" which began in the Dominican Republic in 2010 ended in Supreme Court today [Mar.16] when four men were sentenced to 5 to 8.5 years in prison for attempting to smuggle more than $3 million worth of cannabis into the island.
Earlier this week, four of the "Carefree Five" plead guilty to drug charges minutes before their trial was due to start. Carlos Rogers, Shaun Johnson, Kinola Simons and Bilal Shakir all pleaded guilty to possessing or handling the controlled drug cannabis. The cannabis was said to weigh about 150lbs, with a value of $3.4 million.
Mr Rogers – who was one of the two who sailed from the Dominican Republic – was given 8.5 years. Mr Johnson was given 6 years, while Mr Simons and Mr Shakir were both given 5 year sentences.
The fifth defendant — Kwesi Hollis — denied all the charges and walked out of Court a free man today. Charges against Mr Hollis will not be pursued at this time, with the term "nolle prosequi" being used in Court.
With the Supreme Court gallery filled with family and friends, the the Crown reminded Justice Carlyle Greaves of the outline of the case and submitted its sentencing recommendations.
The Crown told the Justice that two of the men had left Bermuda by plane, had spent several weeks in the Dominican Republic, had bought a boat, and had spent 49 days sailing that boat back to Bermuda.
They had later arrived off Bermuda, had phoned Johnson and had arranged for him to meet them offshore. Mr Johnson had stolen a Boston Whaler and, accompanied by Mr Simons, had travelled to St George's where they met up with Mr Shakir.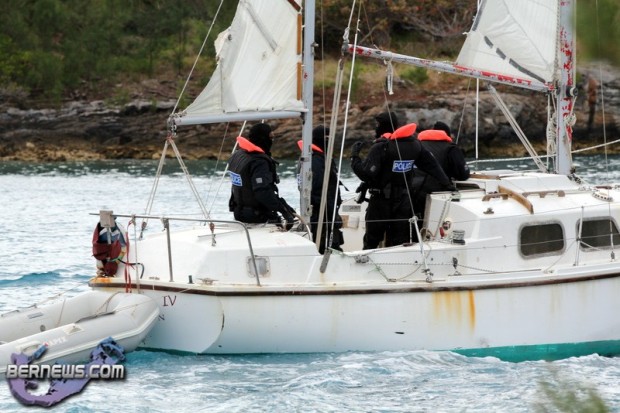 That night, the three men, travelling in the Boston Whaler, had gone offshore and rendezvoused, off the South Shore, with the Carefree lV which was crewed by Mr Rogers and Mr Hollis.
On meeting the Carefree, the three men in the Boston Whaler took on board a Samsonite suitcase and several bales of what turned out to be cannabis. This entire operation had been followed by Police, who tracked and met the Boston Whaler when it sought to return to land on the North Shore side.
Police boats, with armed policemen on board, chased the Whaler. During this chase, the three men threw the cargo over the side but it floated and Policed retrieved all of it.
The trio were caught by police and they came ashore, under police escort, at Pender's Wharf in Devonshire. The two men on the Carefree lV were taken into custody in the vicinity of Five Fathom Hole off St George's.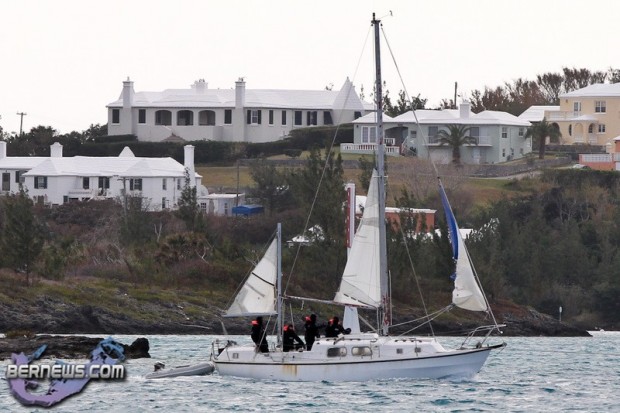 For their involvement in the operation, the Crown recommended that Bilal Shakir should get a sentence between 5 – 7 years, but on the low side given his early plea of guilty and his willingness to testify as a witness.
Kinola Simons should get 5 – 7 years but in the mid-range because he too had pleaded guilty early on. Shawn Johnson should get 5 – 7 years but on the high side because he had pleaded guilty. Carlos Rogers, the admitted mastermind, should get 7 – 10 years, recognizing that he had pleaded guilty.
Before passing sentence Justice Greaves said that the guilty pleas were important because this trial, involving five defense lawyers could easily have lasted two months and would have re-created a backlog that the courts had worked hard to eliminate.
He said that this would have been unfair on all the other persons awaiting trial and would also have resulted in a very large charge to the public purse.
Lawyer Marc Daniels, leading off with his submissions on behalf of Mr Johnson suggested that in going out to the Carefree, Mr Johnson had merely been responding to a call for help from a distressed mariner who was in need and had no knowledge of the drugs.
This approach provoked a reaction from Justice Greaves. Justice Greaves referred to evidence that said that Mr Johnson had earlier told family and friends that he was about to take part in something that would earn him some large reward; and the Justice said quite loudly: "Did he think I will be a good Samaritan. If I help, then I will get blessings from above."
As a part of the sentence, Mr Rogers agreed to a confiscation order that will see $15,000 of his assets seized. As sentence was passed on two of the men stifled sobbing, which continued for several minutes, could be heard and formed the backdrop for the other sentences.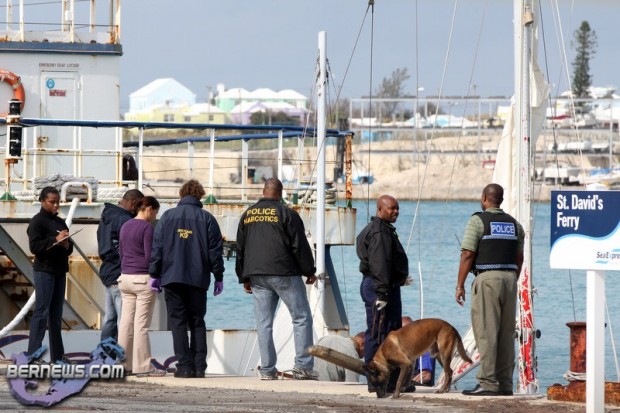 Mr. Rogers, 42, and Mr. Hollis, 37,  sailed from the Dominican Republic on December 1, 2010 on the "Carefree IV" and had been due to arrive in Bermuda later that month.
After the two men were days overdue the boat was declared missing, and a US Coastguard C-130 aircraft had conducted an aerial search for the missing boat, covering an area of 19,000 square miles to the east and southeast of Bermuda just before Christmas. In addition, a vessel from the Dominican Republic Navy division also searched for the two men.
On January 21, 2011 — seven weeks after leaving the Dominican Republic — the "Carefree IV" sailed into St George's Harbour, with armed Police officers boarding the boat and arresting both men, only hours after the Marine Police stopped a Boston whaler in the North Shore area, seized what they suspected was a large quantity of cannabis, and arrested the other three men.
Read More About
Category: All, Court Reports, Crime, News