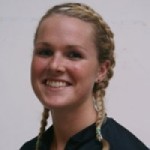 Flora Duffy finished 4th yesterday [Apr.7] in the Boulder Roubaix on the Boulder Colorado Cycling circuit.
Competing in the Women's Pro Division Field of 20 riders, Duffy clocked a time of 2:26.15. She finished two minutes and eighteen seconds behind winner Alison Powers who clocked 2:23.57.
The Boulder Roubaix is a road race that takes place in the northern part of Boulder Colorado and consists of a 18.7 mile loop with 43% paved roads & 57% unpaved roads for a total distance of close to 69 miles.
Read More About