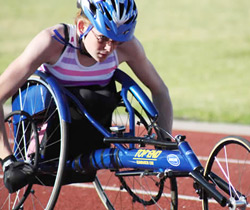 [Updated with video] Marking the first time in history a Bermudian has qualified for the track and field portion, Bermuda's Jessica Lewis has qualified for the 2012 London Paralympic Games.
Ms Lewis just concluded taking part in several summer track meets in the US and Canada in her continuing bid to enter the 2012 Games.
Last night [May 19] at the Desert Challenge in Mesa, Arizona, she put on a dominating performance and was first across the line in all three of her races: 100m, 200m and 400m, picking up three gold medals.
She attained another personal best, which also qualified her for the 2012 London Games.
The 19-year-old will become only the fourth athlete from Bermuda to compete at a Paralympic Games, following in the footsteps of Kirsty Anderson, Phyllis Harshaw and Sandy Mitchell who all competed in Equestrian events.
The Paralympic Games are a major international multi-sport event for athletes with physical disabilities held in conjunction with the Olympics.
There are Winter and Summer Paralympic Games which take place immediately following the respective Olympic Games in the same host cities, and the Games are considered the highest level of competition in the world.
Ms Lewis previously made history when she became the first ever track and field athlete to represent Bermuda at a major para-sport Championships at the 2011 Parapan American Games in Mexico last year.
Update 10.32pm: Ms Lewis — and her three medals — returned to Bermuda this evening after competing in Arizona, and is pictured below with her mother and sister. Speaking at the airport, her mother said she was so excited watching her daughter perform so well in the races that she was screaming in the stands.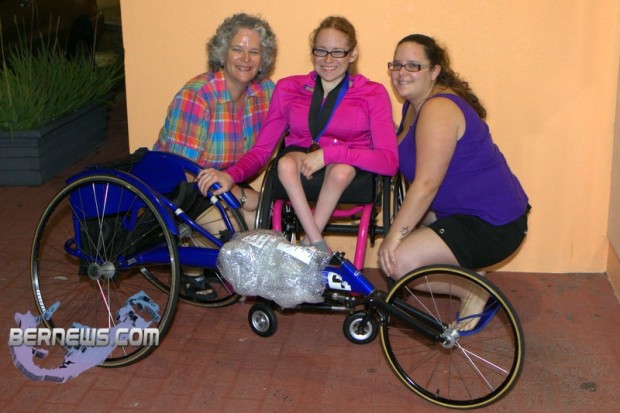 Ms Lewis — who has qualified for the Paralympics in the 200m — said she plans to travel back overseas on Friday where she hopes to achieve additional qualifications in both the 100m and the 400m. She said she is very close in the 100m, having clocked in at 19.13, just a shade off the qualifying mark of 19.00.
Read More About