The 2011 Parapan American Games Opening Ceremony took place last night [Nov.12] in Guadalajara, Mexico, and Bermuda's Jessica Lewis carried the Bermuda flag into the Telmex Athletics Stadium.
Ms Lewis, 18, is set to make history when she becomes the first Bermudian  to compete in athletics at a major para-sport championships when she lines up for the 100 metres T53 on Wednesday.
Ms Lewis training on the track in a file photo: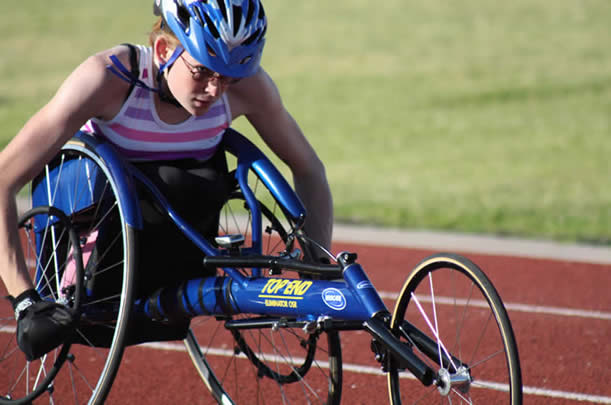 "I feel very honoured and just feel glad to have made it here as I've worked very, very hard," said Ms Lewis. "…I just want to show Bermudians what people with a disability can achieve here in Mexico."
In preparation for the Parapan American Games, the former Saltus student has been training seven days a week while also finding time to study at Brock University in Canada.
"I have a lot of pride to be representing my country but I'm very nervous too and glad to be here," she said.
Ms Lewis is pictured below in Mexico, along with Coach Gerry Swan: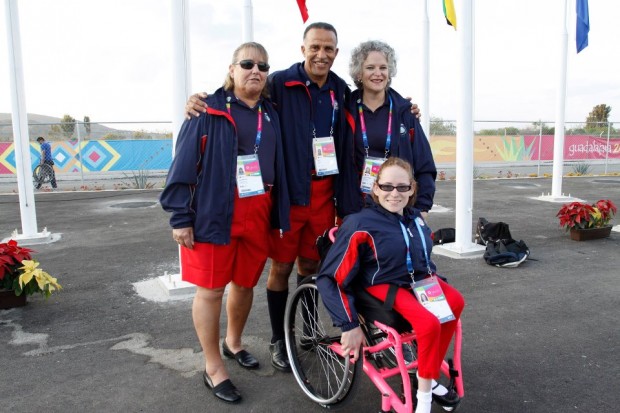 Around 1,500 athletes from the 24 competing countries attended the Ceremony together with various dignitaries including International Paralympic Committee President Sir Philip Craven.
The stunning Opening Ceremony was a celebration of the rich cultural history of Guadalajara and Jalisco and also included a rock and pop concert featuring contemporary music, fireworks, speeches and more.
Fireworks light up the night sky at the Opening Ceremony: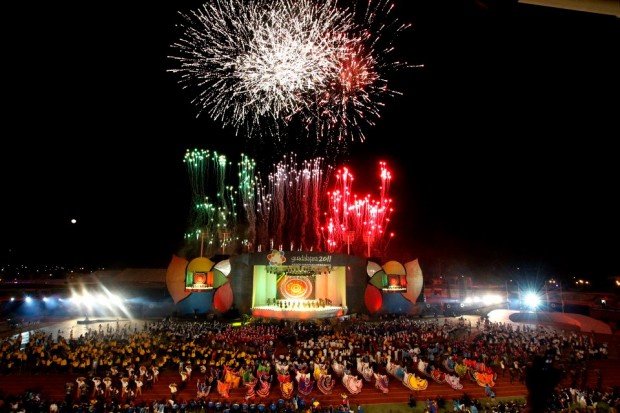 Americas Paralympic Committee president Octavio Londoño stated the important role sport plays in inclusion. "Sport is a unique and noble expression of human greatness and generosity."
"Its diversity of colours and expressions teach us all that we can achieve the best through this wonderful tool that aims to leave no one out.
"The history of this continent where we celebrate the meaning of life started here in Mexico. This is a celebration of inclusion, diversity and good examples."
Flags of all competing nations were raised in Guadalajara, Bermuda's flag is pictured being raised below: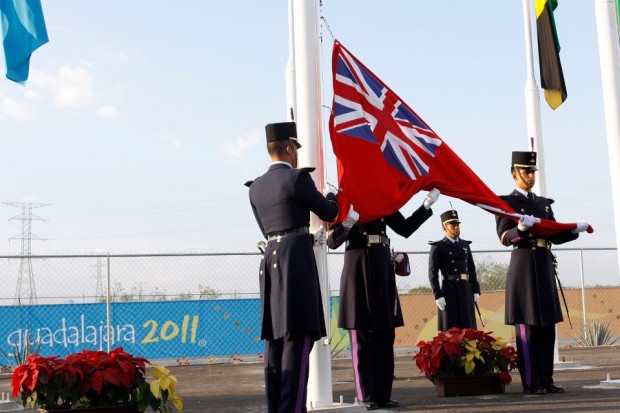 Ms Lewis' dream is to compete in London 2012 and become only the third athlete from Bermuda to compete at a Paralympic Games, following in the footsteps of Kirsty Anderson and Sandy Mitchell who both competed in Equestrian events.
The Paralympic Games are a major international multi-sport event for athletes with physical disabilities held in conjunction with the Olympics. There are Winter and Summer Paralympic Games which take place immediately following the respective Olympic Games in the same host cities.
Close to the qualifying mark, Ms Lewis is just outside the London 2012 A qualification standard for the 100 metres and is close to achieving the B standard in the 200m and 400m.
Ms Lewis has already been cited as a possible medal contender in Mexico in international reports, and regardless of her placing, will etch her name in history as the first para-athlete to ever represent Bermuda in athletics at a major international games.
- Parapen photos courtesy of  the game's organizing committee.
Read More About