The Bermuda U/12 team returned to Bermuda last night [May 14], having won the First Caribbean Tri Nations Mini Rugby Under 12 Tournament in the Bahamas, which saw Bahamas, Bermuda and the Cayman Islands take part. In a strong all around effort from the entire team, 15 of Bermuda's 23 member squad scored a try.
On Day One Round Robin action Bermuda played two teams, a Red and a Blue Team. Bermuda Reds defeated the Cayman Islands 30 – 0 in their first match. Bermuda got two tries from Liam Page and Johnny Page, while Adam Kiernan and Nic Martin scored a Try each.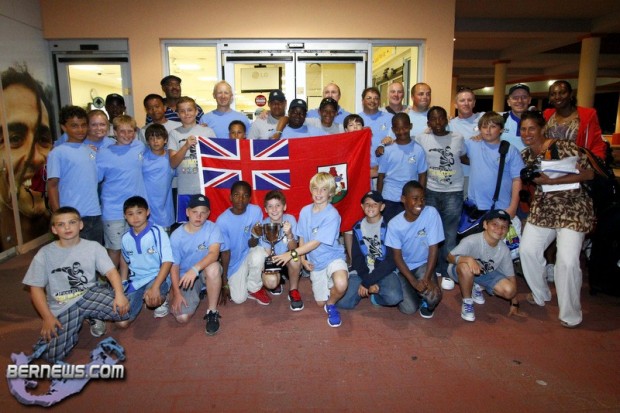 The Reds then defeated the Bahamas 30 – 0 with Liam Page scoring two more tries. Johnny Page, Nic Martin, Yizharyahs Williams and Robbie Turnbull all scored a try each.
The Bermuda Blues went down 35 – 15 to the Bahamas. Bermuda got two tries from Padraic O'Shaughnessy and a single try from Enyche Zuill. The Bermuda Blues then defeated the Barbarians 30-15. Melvin de Rosa scored two tries while Zuill, O'Shaughnessy, Zahyinde Caan and Kelin Williams all scored a Try each.
The Barbarian team is made up of players from all of the countries, thereby helping to develop teamwork, camaraderie and fair play.
In the Test Matches, Bermuda defeated the Cayman Islands 45-5. They were led by Padraic OShaughnessy who scored two tries while Nathan Morgan, Liam Page, Zayhinde Caan, Yizharyahs Williams, Melvin de Rosa, Kelin Williams and Sean Tucker all scored a try each.
Bermuda then defeated the Bahamas 25-10. Bermuda got tries in this game from Nathan Morgan, Alex Doyling, Zayhinde Williams, Kelin Williams and Jacob Robb.
Read More About